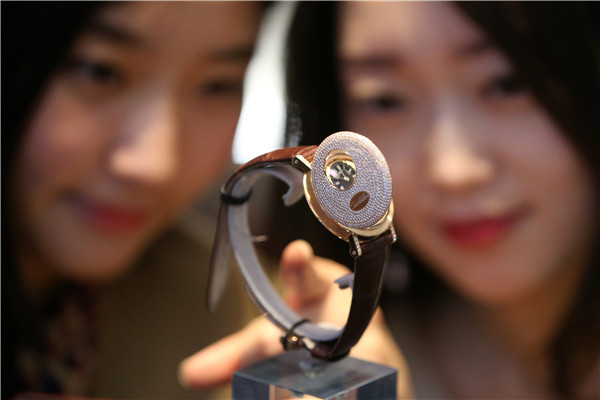 Two women inspect a Breguet wrist watch inlaid with 706 diamonds, and priced 1.77 million yuan ($276,563).CHINA DAILY
As Chinese spend on high fashion worldwide, local firms go shopping for brands to expand
Retailers, investors and industry insiders believe China's luxury goods industry, despite losses for the second year in a row in 2015, is still well on its way to a brighter future, coasting on the momentum of double-digit growth in recent years, said consulting firm Bain & Co.
The Fortune Character Institute's research findings appear to confirm the optimistic outlook. In 2015, Chinese consumers bought 46 percent of the luxury goods consumed worldwide. But 78 percent of it was bought outside China.
Chinese consumers of high fashion and luxury goods are becoming increasingly discerning too. Not for them any brand that is easily available or visible. By buying and encouraging the best among the existing luxury brands, Chinese consumers are emerging to be trendsetters.
To ride the rising wave of fashion consciousness among Chinese consumers, Shandong RuyiGroup, one of China's leading textile producers, reportedly joined the bidders for French fashion group SMCP on Jan 20, according to a Bloomberg report.
SMCP is estimated to be worth more than $1 billion. The group owns affordable luxury brands such as Maje and Sandro, which have been enjoying surging popularity among China's rising middle class in recent years.
Shandong RuyiGroup is ranked among the top four of China's 500 leading textile enterprises. Its consolidated annual revenue hit a record 30 billion yuan ($4.7 billion) in 2013.
The group declined to comment on its reported interest in acquiring SMCP.
Any such acquisition would be "just a drop in the bucket as the Chinese are fast climbing on to the upper chain of the luxury industry", said Zhou Ting, director of the Fortune Character Institute. "The (luxury) market remains one of the most lucrative for now and (shall remain so over) the next decade. This means, if Chinese companies and investors want a share, they should be more actively involved in every link of the supply chain, from designing and manufacturing to marketing and retailing."
Things have been moving in that direction of late.
For instance, China's homegrown online fashion retailer VipshopHoldings, known for its discounts, invested several millions of pounds in November for a minority stake in British fashion-maker BrandAlley, to introduce more British brands in China.
A month earlier, its competitor, Secoo.com, created quite a splash by opening the first cross-border experience store at Piazza Del Duomo, one of Milan's most-visited shopping areas.
Li Rixue, founder and CEO of Secoo.com, established the website seven years ago in Beijing. He called the Milan store "part of the company's ten-year globalization plan".
Industry insiders said that Secoo.com's aggressive expansion reflects a strategy to target high-spending Chinese tourists in Europe.
Zhou said what, where and how the Chinese buy will likely determine where Chinese, and probably global, investors' money would be pumped in.