Chinese tourists buy bulk of luxury
The nation's consumers accounted for 46 percent of the sector's global sales, as travelers parted with hundreds of billions of dollars
Chinese consumers spent 1.2 trillion yuan ($184 billion; 166 billion euros) abroad last year, and more than 60 percent bought luxury products - including handbags, cosmetics and mobile gadgets, a luxury-market consultancy says.
Their luxury spending alone amounted to $116.8 billion, according to Beijing-based Fortune Character Group.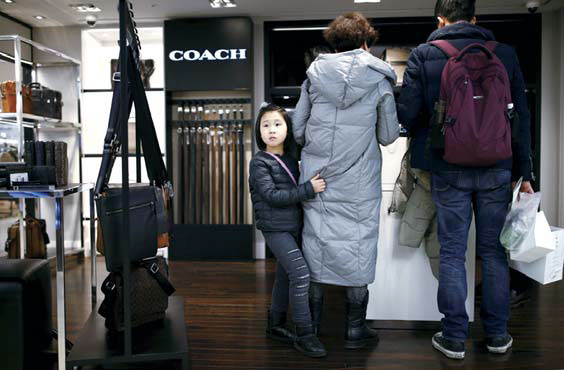 Chinese tourist pay bill up at a Lotte department store in central Seoul, South Korea. Kim Hong-Ji / Reuters
Chinese consumers accounted for a whopping 46 percent of global luxury sales, the company says.
According to the Ministry of Commerce, Chinese consumption power overseas grew on average by 27.8 percent annually between 2005 and last year, doubling such power in the domestic market.
"Convenient travel conditions, the appreciation of the yuan, and attractive foreign retail and tourist markets pushed Chinese to buy more foreign products in both physical stores and online shops," says Jiang Yiyi, director of the China Tourism Academy's International Tourism Development Institute.
Government figures show that more than 120 million Chinese tourists went abroad last year. Meanwhile, slowed domestic consumption remains a concern for the central government.
The country's consumer market was generally steady but fluctuated slightly, seeing low spending levels at the start of last year before a rebound toward the end.
Retail sales of consumer goods last year reached 30.1 trillion yuan, a year-on-year rise of 10.7 percent, according to the Ministry of Commerce.
If one-third of current overseas consumption had taken place in the domestic market, China's retail sales of consumer goods would have risen by at least 1 percentage point, according to Li Jian, a senior researcher at the Chinese Academy of International Trade and Economic Cooperation, a ministry think tank.
However, prices of imported goods remain high compared with the same articles in overseas markets.
Research by the China Chamber of International Commerce on the development of the country's consumer market last year found that the prices of 37 high-end consumer goods were between 40 percent and 68 percent higher than the same products in the United States, France and Germany.
The goods included watches, electronic products, wine, clothing, suitcases and handbags.
zhongnan@chinadaily.com.cn