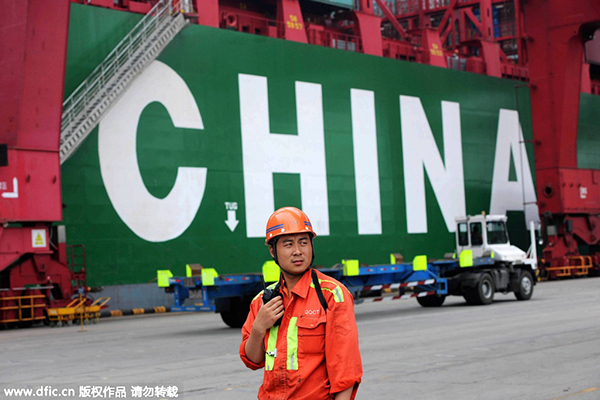 A stevedore works at Qingdao port in Shandong province, July 1, 2015. [Photo/IC]
Supply-side reforms to be carried out along with urbanization drive
Chinese leaders, meeting ahead of two agenda-setting conferences, pledged on Monday to keep the country's economic growth rate within a "reasonable range" next year.
This will be accomplished by stepping up supply-side reforms and pushing forward urbanization.
At a meeting of the Politburo chaired by President Xi Jinping, leaders agreed that China has met major economic growth targets this year and that next year will be a crucial one, as it marks the beginning of the country's next five-year development plan.
The Politburo is the top decision-making body of the Communist Party of China.
China has aimed for GDP growth of about 7 percent this year, and Xi has said it needs annual average growth of no less than 6.5 percent in the next five years to reach the target of doubling GDP and per capita income by 2020 from 2010 levels.
Xu Hongcai, an economist at the China Center for International Economic Exchanges, said Monday's meeting set the tone for the upcoming annual Central Economic Work Conference, which is expected to be held later this month. The conference will focus on policy design to support economic growth and push forward restructuring reforms next year.
"A monetary policy with more easing and a more proactive fiscal policy may be approved by the leadership for next year to ensure that economic growth can remain at 6.5 percent or above," Xu said.
Leaders also agreed that China should expand aggregate demand and make more efforts to improve supply system efficiency, according to a statement issued after the meeting.
The government will promote mergers and acquisitions next year, as well as allowing strong companies to survive and weak ones to close under the principle of "survival of the fittest", the statement said.
Premier Li Keqiang pledged recently to step up supply-side reforms to generate new growth engines in the economy while tackling factory overcapacity and so-called zombie companies.
Huang Yiping, an economics professor at Peking University, said zombie enterprises, which are unable to pay off their debts and cannot survive without outside support, are too big a drain on financial and labor resources and constrain economic growth.
"These resources should be freed up and shifted into new and competitive industries, which is also an important factor of the reform focusing on the supply side," Huang said.
Observers believe that Monday's Politburo meeting, which also addressed the general direction of China's urban development, shows that a Central City Work Conference will be held soon.
Leaders agreed that urbanization is a driving force for future economic growth and that more settlement of migrant workers in cities will help to revive the flagging property market, according to the statement.
Li Tie, head of the China Center for Urban Development at the National Development and Reform Commission, the country's top economic planner, said, "By 2020, there will be 400 million people who will need new houses in cities.
"This will include about 54 million people moving into cities from rural areas every year, so demand in the real estate sector is huge."
According to Wang Hui, a professor of urban economy and public administration at Capital University of Economics and Business in Beijing, settling migrant workers and their families in cities will top the agenda at the forthcoming Central City Work Conference.
Reuters contributed to this story.