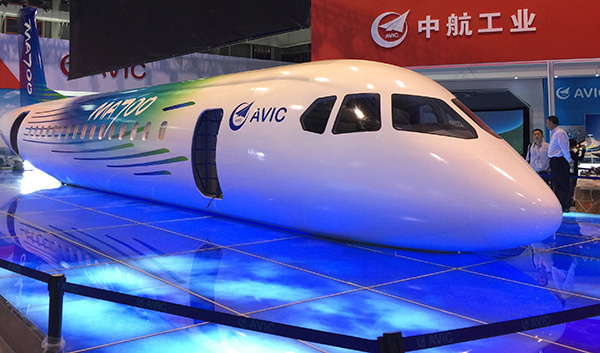 A MA700 jet model at a civil aviation fair in Shanghai. AVIC International Holding Corp has been in Africa for 30 years and has diversified its businesses there to include infrastructure and livelihood projects. [Photo/China Daily]
The Chinese giant with roots in aviation is looking to help the continent with its technology advantages
Energy shortages and the lack of technical training in Africa are two problems that are dragging down the continent's ability to take off industrially. Both areas are being addressed by China's AVIC International Holding Corp.
Liu Jun, executive vice-president of the State-owned firm, talked about the company's plans in an interview with China Daily at the New York Forum Africa, which was held in Libreville, Gabon, in August.
Liu said that the company will make it a priority to help the African countries better prepare to receive industrial capacity transfers from China, which is seen as an important way to boost growth in Africa.
AVIC International is well-equipped to handle the challenges ahead.
It has more than 80,000 employees in more than 180 countries and regions, and is controlled by the giant Aviation Industry Corp of China, an aerospace and defense company.
AVIC has been in Africa for 30 years and has diversified its businesses there to include infrastructure and livelihood projects.
China has gained experience and developed high-end technology, Liu said.
However, considering the high cost and the lack of support from African governments, he said it is still challenging to promote new energy in the continent.
Major power cuts are still happening in some African nations due to shortages, but power is a must for the development of these countries, and making industry transfers from China is a practicable solution.
"Power to those countries is just like blood to human bodies. It will make those countries energetic," he said.
"Not only does China have advanced technology in the energy industry, including coal-fired and gas power generation, but it also has lots of experience and great capability in manufacturing and operations.
"If our capability is used here in Africa, it would have excellent opportunities to develop," Liu added.
The competitiveness of China's power generation industry is shown by AVIC Inter-national's participation in an engineering, procurement and construction project in Turkey to build two 600,000 kilowatt power units, he said.