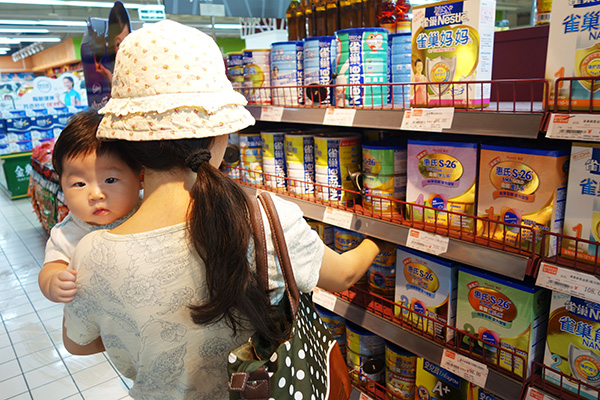 A woman with a baby selects imported infant formula in a Beijing supermarket. [Photo/China Daily]
When China's economy was growing in double digits, dairy farmers more than 9,600 kilometers away in New Zealand felt like they had won the lottery.
They were getting record prices for their milk and it seemed there was no slaking China's thirst for premium New Zealand infant formula, especially after a tainted milk powder scandal made Chinese shoppers wary of domestic brands.
Now, it's as if farmers have discovered the lottery ticket was not valid. A world milk glut and a decline in Chinese demand for imported dairy products have sent prices down by 50 percent. Many farmers are borrowing to stay afloat and rural suicides have increased.
Dairy exports in the year that ended June totaled NZ$12 billion ($7.6 billion), down from nearly NZ$16 billion a year earlier. Dairy trade to China has proved particularly volatile, rising from NZ$2.8 billion in 2013 to NZ$6 billion last year, then plunging to NZ$2.3 billion this year.
"We saw it happening on the cash-flows way back in April-May, and could see well ahead that there was going to be just massive deficits," Chris Engel, a farmer with 400 cows in Wairarapa, a region of quaint towns, rolling green pastures and a striking backdrop of snow-peaked mountains, said.
Engel, who has been farming with his wife Jude for more than three decades, said there have been droughts and other challenges in the past, but never such bleak pay days. "We just had to be in constant contact with the bank, updating them regularly, to get their support to pay the bills."
The financial dilemma for New Zealand's dairy farmers, and the economy they help power, underscores that China's quarter century of supercharged growth has given it enough global weight to create not only winners, but losers too.
China's growth last year of 7.4 percent was its slowest in more than two decades, sending ripples around the world. The forecast is for 7 percent or less this year.
Australia, which boomed for a decade on Chinese demand for its vast reserves of iron ore and coal, is grappling with a painful transition after those sources of growth shriveled.
Last month, Tony Abbott was toppled as Australia's prime minister by a challenger from his ruling Liberal Party, in part reflecting dissatisfaction with waning economic growth.
Abbott's inability to successfully articulate a new strategy for the $1.5 trillion economy just increased his problems.
But the challenge from China is not only its slowing economy.