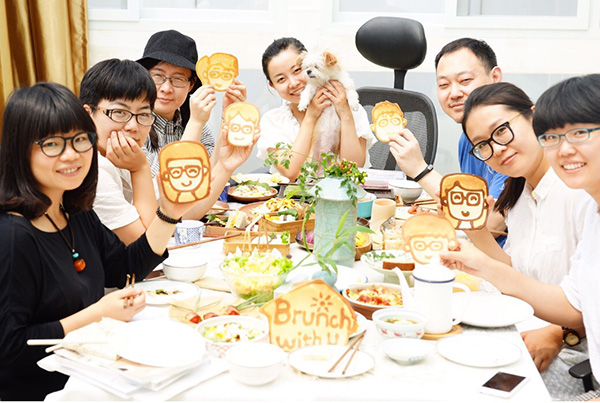 Xiachufang.com's users share their love of bakery at a brunch, with each one holding a pancake made in their image. [Photo/China Daily] 
Liu Nan plans to quit her job as a secretary at a public institution in the Jiangsu provincial capital of Nanjing and open a bakery business later this year.
The 35-year-old mother and budding entrepreneur has taken cooking courses, and has spent 70,000 yuan ($11,290) to deck out a professional kitchen with a state-of-the-art oven and mixer.
She will also use only imported ingredients from established local retailers.
"I want more people to taste handmade fresh bread," Liu said.
"Safe food with a novel twist is what my friends are looking for."
Liu will run the fledgling business from her home and pick up orders online. But then, she is part of a growing group of fresh bakery fans in China who have been enticed by Western culinary recipes, ingredients and even kitchen equipment.
This trend has created business opportunities for local companies that specialize in the market.
Pantry (Beijing) Investment Management Ltd is one of them. The small but select kitchen equipment firm has three stores in Beijing and Tianjin, and is growing fast because of the boom in Western-style breads and cakes.
Known as Pin Chu in Mandarin, Pantry Beijing started trading in 2011 and originally targeted the expatriate community.
But it quickly realized that white-collar Chinese customers, many with an overseas education, were eager to buy culinary equipment from major Western brands.
"In the past two years, baking has taken off in Chinese homes," Liu Yanyan, general manager of Pantry Beijing, said. "Now most families in big cities bake at home."
Nearly 90 percent of the kitchen equipment, such as mixers, blenders and ovens, are imported from overseas, and are used mainly in Western cooking.
A mixer retails for 6,980 yuan, while a blender costs 349 yuan.
The privately owned company has yet to release detailed sale figures, revenue or profit.
"Chinese customers have higher incomes and they are looking to make something exotic, which looks good in the kitchen," Liu, at Pantry Beijing, said. "Baking offers them such opportunities."
In addition to kitchen equipment, the homemade bakery trend has generated traffic online.
Xiachufang.com, a mobile app launched in 2011, focuses on recipes and baking techniques, and has 100,000 active users every day.
"Recipes are naturally commercialized," Wang Xusheng, founder of Xiachufang.com, said, referring to the different brands of ingredients that are used.
Another major element of the app is an online market, which shows different baking ingredients and where to buy them.
One collaborator is Wal-Mart China's high-end retailer, Sam's Club.