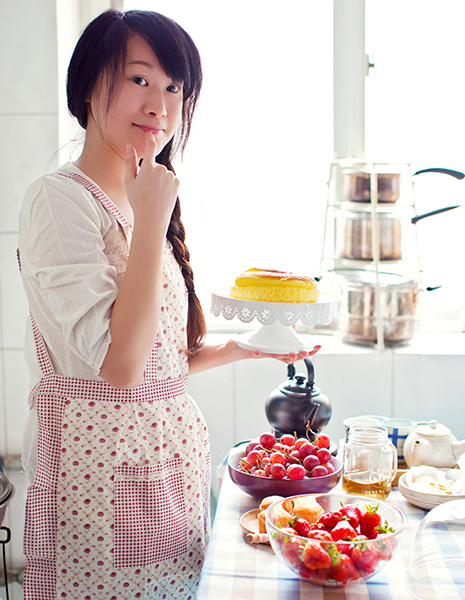 A woman shows off a newly baked cake at her home in Beijing. More and more Chinese people, especially those from the middle class, are willing to try Western culinary recipes. [Photo/China Daily]
Major international groups are beefing up their operations here as consumer demand in the bread and cake sector expands rapidly
You have to whip up something extra special to make an impact in China's bakery business.
When Rich Products Corp arrived here 25 years ago, the multinational firm based in the United States was surprised by one suggestion from a Chinese company.
Specializing in providing varieties of dough, whipped toppings and non-dairy frozen food products to retailers, bakeries and stores, Rich was asked to roll out a different range of ingredients for the "mix-and-whip" process here.
In the US, bakery groups tend to blend their food products by using medium-speed mixers. In China, some bakeries are used to a faster technique.
"One bakery turned to me and said, 'I don't want medium speed, I want high speed'," William Gisel, now president and CEO of Rich, recalled. "They felt high speed produced better products."
Taking onboard the advice, the Rich team went back to the US and worked on "high speed" techniques to produce food ingredients for the Chinese market.
"We wanted to get the quality just right," Gisel said. "We are a global company, but we need to be very local in different countries. We also need to understand our customers' tastes and everything about them in different parts of the world."
The group has come a long way since branching out into international markets back in 1988. It now operates in 100 countries from Asia to Africa, and Europe to Latin America.
During the decades that have followed, Rich has honed its business model. "Our products here are not just the same as those sold in the US," Gisel said. "They are produced specifically for the Chinese market."
The group has three factories here in Shanghai, Suzhou, a major city in Jiangsu province, and Tianjin, which borders Hebei province, employing 10,000 workers.
Rich's product line has been expanded to 150 brands, including a variety of dessert toppings and doughs, to cater for the booming bakery market. It is also recognized as a food service provider to retailers.
"We believe there are great opportunities for growth, although it's difficult to predict what that growth will be. But we will be increasing our investment here," Gisel said, without disclosing detailed financial figures, revenue or sales numbers in China as the company is privately owned.
Fueling that growth will rest with the country's middle class shoppers and their passion for tasty treats.