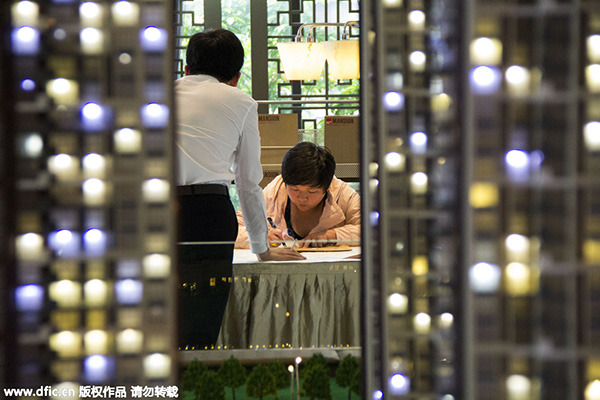 A homebuyer signs contract at a sales office in Changzhou, Jiangsu province, Oct 7, 2015. [Photo/IC]
China's "golden week" saw domestic housing sales surge by 64.8 percent in floor space term, spurred by the government's easing policies, according to the China Index Academy.
Owned by SouFun Holding Group Ltd, the China Index Academy said on Monday that during Oct 1 to 7, home sales in 23 Chinese cities monitored hit 1.59 million square meters, up 64.8 percent from the same period last year.
Hefei in Anhui province saw the largest surge, a 274 percent jump in transaction. It also represented the major gain in third-tier cities, a group to which it belongs to. The third-tier cities group as a whole saw a 152 percent year-on-year advance, the Academy said.
The second-tier cities saw a much milder increase of 58.3 percent, while the first-tier cities saw the smallest increase of 29.5 percent. Sales in Shenzhen surged 82.3 percent and in Shanghai picked up 45 percent. Sales in China's capital city, Beijing, dropped 6.1 percent.
In an attempt to boost housing sales during the golden week, the People's Bank of China and the China Banking Regulatory Commission said on Sept 30 that minimum down payments for first-time home buyers would be cut from 30 percent to 25 percent in cities that do not have restrictions on purchases covering most Chinese cities. The four first-tier cities were not covered.