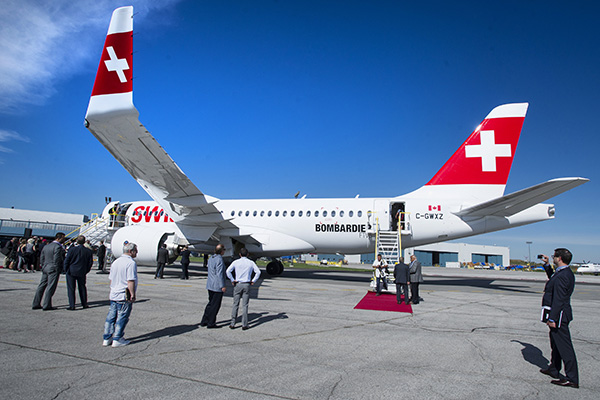 Attendees view the new Bombardier Inc CS100 airplane during an event at the company's facility in Toronto. Bombardier is close to sealing an order from a Chinese lessor for the CSeries aircraft. [Photo/Agencies]
Plane maker Bombardier Inc is close to sealing an order from a Chinese lessor for its CSeries aircraft.
Any such deal would signal increasing interest in Bombardier's biggest-ever jet.
Bombardier declined to identify the prospective buyer, but Fred Cromer, its president for commercial aircraft, said at the ongoing Aviation Expo China 2015 in Beijing that the company is "in the process" of firming up earlier conditional deals and talking to new customers.
China's CDB Leasing Co signed a conditional purchase agreement in July 2012 for five CS100 and 10 CS300 jets, along with options to double its order.
Similarly, Zhejiang Loong Airlines Co signed a letter of intent in July 2014 to acquire 20 CS100 airliners.
Cromer's remarks added to a drumbeat of recent positive comments from the company about interest in a model whose last firm purchase came almost a year ago.
The CSeries is more than two years behind schedule, and several airlines that had shown early interest, including the customer that was supposed to be the first operator, have backed away.
"In some campaigns, we're re-initiating talks, and most of these, it's the airlines themselves that are knocking on our door," Shirley Chenier, head of investor relations at Bombardier, said on Wednesday at a Canadian Imperial Bank of Commerce conference in Montreal. "There's not one airline in the world that doesn't have an interest, or doesn't have a place for a CSeries in their fleet."
The CSeries is available in two versions, with the larger model seating 160 people. It is the biggest plane ever built by Montreal-based Bombardier.
Bombardier is forecasting the need for 2,450 commercial aircraft in China in the 60-to 150-seat segment over the next 20 years, with deliveries to China representing 19 percent of the world's total demand for 12,700 aircraft in the segment, according to the company.
China is a "major opportunity" for Bombardier, Chenier said. "It's going to be a very big market for the CSeries."