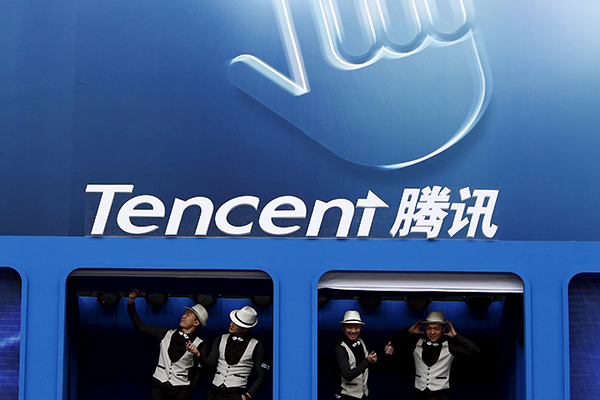 Dancers perform underneath a Tencent logo at the Global Mobile Internet Conference in Beijing, May 6, 2014. [Photo/Agencies]
Internet giant banks on its two units for film-related business
Competition in China's movie sector has intensified with Internet giant Tencent Holdings Ltd entering the multi-billion industry with two new film units.
Tencent established a new company called Tencent Pictures on Thursday, highlighting its ambition to tap into the world's second-largest movie market. The move comes close on the heels of setting up a movie venture last week.
"Our goal is not just to make movies. We are building a pan-entertainment ecosystem which includes games, books, TV dramas and animation," said Cheng Wu, chief executive officer of the new group.
According to Cheng, the company will tap into its large collection of intellectual property rights to adapt popular online books and animation into movies, or vice versa.
"Digital content is one of the two focuses of Tencent's business," said Ren Yuxin, chief operating officer of Tencent.
"We don't pursue quick money from making movies. Instead, we are eyeing an important presence with long-term commitment." Incidentally Ren will head Tencent Pictures as its chairman.
Cheng has been in charge of Tencent's business in intellectual property rights and games for several years. He is well-known for his role in acquiring Shengda Literature, the most popular online literature site in China.
Last week, Tencent founded Penguin Pictures. It is a film unit and headed by Sun Zhonghuai, who is responsible for the video streaming business at Tencent. Sun said Penguin Pictures will focus on producing original Web shows, movie investments and developing artists agency business.
Box-office receipts in China soared to 30 billion yuan ($4.7 billion) by Sept 5 this year, compared with 29.6 billion yuan for the whole of last year. China is now the world's second-largest cinema market, after the United States.
Alibaba Group Holding Ltd, Baidu Inc and online video sites such as Youku Tudou Inc and iQiyi.com are all intensifying their efforts to cash in on the sector through partnerships or acquisitions.
Analysts said Tencent's decision to set up twin units shows that the movie sector is of paramount importance to the company's future development.