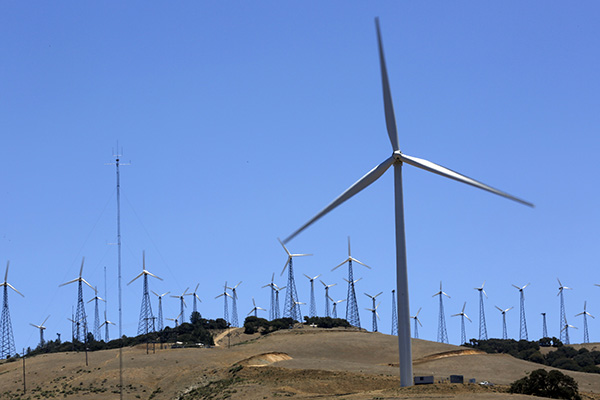 A GE wind turbine (front) at a wind farm in Tehachapi, California, US. [Photo/Agencies]
US firm to work with Chinese company on project in Kenya
China National Machinery Industry Corp, a State-owned enterprise often called Sinomach, has signed a memorandum of understanding with United States-based giant General Electric Co to help further develop Sub-Saharan Africa's clean-energy market.
The two have already identified a 102 megawatt wind power farm in Kipeto, a city 50 kilometers to the south of the Kenyan capital Nairobi, as a long-term pilot program for their future cooperation.
The sides said they will assist each other in obtaining third-party, long-term financing or provide the capital themselves for project development.
The Kipeto farm is being run as part of the Power Africa campaign, a US government-led initiative which brings together private and public organizations from around the world to work in partnership to raise power supply levels across the continent.
Sinomach is mainly involved in machinery equipment research and development and project contracting. It will be the main contractor of the joint project, while GE will provide generators, machine parts, technological support and training, and up to 60 wind-driven generators.
Total investment in the Kipe-to project is $210 million, much of which will come from Over-seas Private Investment Corp, a US public agency that mobilizes development capital for private firms.
"Our collaboration with GE in African power-infrastructure construction, and in other emerging markets, shows a new kind of cooperation between Chinese and US companies," said Ren Hongbin, chairman of Sinomach.
Rachel Duan, president and chief executive officer of GE Greater China, called the US firm a reliable partner for Chinese infrastructure equipment manufacturers, in their "going global" efforts.