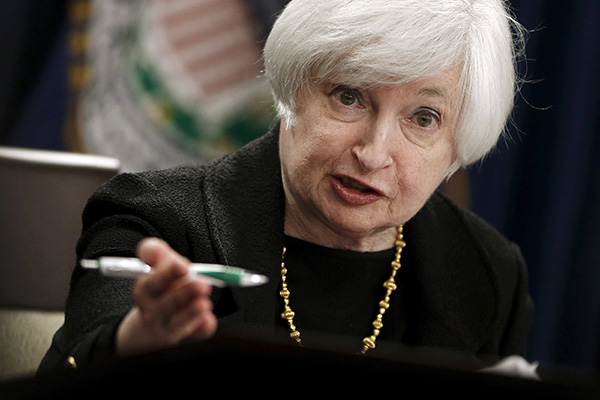 Federal Reserve Chair Janet Yellen holds a news conference following the Federal Open Market Committee meeting in Washington, Sept 17, 2015. [Photo/Agencies]
The US Federal Reserve kept interest rates unchanged on Thursday in a bow to worries about the global economy, financial market volatility and sluggish inflation at home, but left open the possibility of a modest policy tightening later this year.
In what amounted to a tactical retreat, Fed Chair Janet Yellen said developments in a tightly linked global economy had in effect forced the US central bank's hand.
"The outlook abroad appears to have become less certain," Yellen told a news conference after the Fed's policy-setting committee released a statement following a two-day meeting.
She added that a recent fall in US stock prices and a rise in the value of the dollar already were tightening financial market conditions, which could slow US economic growth regardless of what the Fed does.
"In light of the heightened uncertainty abroad ... the committee judged it appropriate to wait," Yellen said.
The policy statement also nodded squarely to the global economy as a decisive variable within Yellen's "data-dependent" Fed, warning that recent developments abroad and in financial markets might restrain economic activity somewhat and likely put further downward pressure on inflation in the near term.
But the Fed maintained its bias towards a rate hike sometime this year, while lowering its long-term outlook for the economy.
Fresh economic projections showed 13 of 17 Fed policymakers foresee raising rates at least once in 2015, down from 15 at the last meeting in June.
Traders in futures markets cut bets that the central bank would lift rates by December to around a 47 percent probability, from 64 percent before the release of the policy statement.
"We're in the same situation we were in before, which is uncertainty about when are they going to move," said John Bonnell, a senior portfolio manager at USAA Investments in San Antonio, Texas.
Four Fed policymakers now say rates should not be raised until at least 2016, compared to two who felt that way in June. The Fed has policy meetings in October and December.
In deciding when to hike rates, the Fed repeated it wanted to see "some further improvement in the labor market," and be "reasonably confident" that inflation will increase.