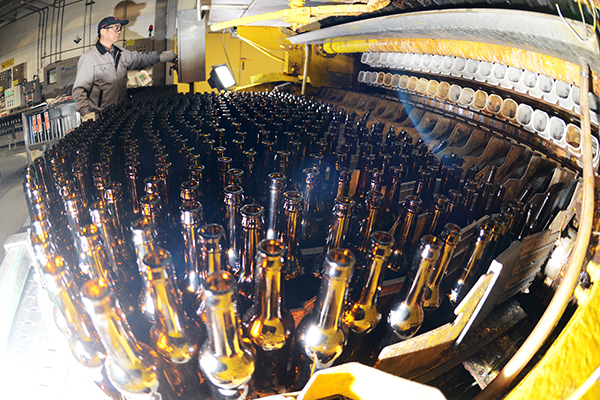 A production line of Anheuser-Busch InBev in Wuhan, capital of Hubei province. [Photo/China Daily]
A proposed takeover by Anheuser-Busch InBev, the world's largest brewer, of rival SABMiller Plc is expected to create a colossus producing a third of the world's beer, and the market leader in China.
The combined group would have a market value of around $275 billion at current prices, and would combine AB InBev's strengths in Latin America with SABMiller's edge in Africa, as well as their breweries in Asia.
The London-based SABMiller, the world No 2 and maker of more than 200 beers including Peroni, Grolsch and Pilsner Urquell, said on Wednesday that it had been informed that AB InBev intended to make an offer which it would have to do by Oct 14 under United Kingdom rules. SABMiller is likely to consider the offer, if it provides good value for its shareholders, said sources close to the development.
AB InBev, controlled by 3G Capital, a private equity fund run by a group of Brazilian investors, confirmed its approach. 3G, known for its focus on cost cuts, has previously spearheaded takeovers of Burger King, ketchup maker Heinz and Kraft Foods. The company owns several international beer brands like Budweiser and local brands like Harbin and Sedrin.
No proposal has yet been received and there can be no certainty that an offer will be made, SABMiller said on Wednesday. The company also said it would reject any potential bid if deemed too low, the people said.
Regulators in the United States are likely to ask for the disposal of SABMiller's stake in MillerCoors, a joint venture with Chicago-based Molson Coors, while AB InBev may have to sell SABMiller's 49 percent stake in CR Snow Zhejiang in China, analysts said.
"The acquisition, if it goes ahead, will alter the beer market landscape in China," said Jason Yu, general manager of Kantar Worldpanel China, a market research firm.
The beer market in China has been experiencing a noticeable slowdown since last year, with the industry moving toward higher quality growth and premium brands, said Yu.
If AB InBev does acquire SABMiller, it will automatically get control of Snow beer in China.
This will take the company's market share to over 40 percent in terms of combined volume, according to Kantar Worldpanel data.
SABMiller had earlier teamed up with China Resources Enterprises Ltd, the largest brewer in China, for the CR Snow brand.
Yu said the merger development is an indication that the global beer industry is heading for a period of consolidation and market domination.
The enlarged group will have greater power over others in the changed ecosystem. Potentially this could also lead to the efficient deployment of manufacturing and distribution resources and improve shareholder value, said Yu.