Third-generation nuclear technology has a competitive edge, company chairman says
China National Nuclear Corporation, one of China's largest nuclear operators, said on Wednesday that it is seeking deeper cooperation with other countries by localizing its homegrown nuclear technology.
"We hope to share our nuclear technology-the Hualong One-with other countries, and provide localized services, so that nuclear power can play an important role in dealing with energy and environmental problems in those countries," said Sun Qin, chairman of CNNC.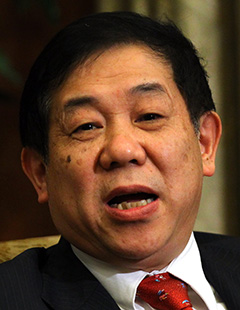 Sun Qin, chairman of CNNC
He said that the third-generation nuclear technology known as Hualong One (HPR1000), which meets the highest requirements for global safety standards, has a competitive edge over other rivals in terms of economic performance and reliability.
Sun was speaking on the sidelines of a CNNC event, held alongside the General Conference of the International Atomic Energy Agency in Vienna, to promote the domestically designed Hualong One reactor.
In September 2014, CNNC's Hualong One nuclear power reactor passed the Generic Reactor Safety Review by IAEA.
Yukiya Amano, director-general of the Vienna-based IAEA, said that the world's nuclear market is moving toward Asia, in particular to China.
"It is encouraging to know that China is developing new technologies with emphasis on safety features. All of us can benefit from these technologies," he said.
After the Fukushima Dai-Ichi nuclear disaster in 2011, which has negatively affected people's confidence in nuclear power, the biggest challenge is how to increase the social acceptance, he said.
China has embarked on an ambitious nuclear program in recent years with the largest number of nuclear reactors under construction in the world, in a move to change its energy mix amid mounting pressure caused by air pollution.
Unit 5 of the pilot project of Hualong One in Fuqing county, Fujian province, started construction in May, a move that China can leverage on to export nuclear technology, experts said.
In 2014, nuclear power accounted for about 2 percent of China's energy mix in terms of electricity generation, leaving huge potential for growth, according to data provided by the China Electricity Council.
"It is only a matter of time before Chinese nuclear technologies are accepted by the Western countries," said an expert from Tecnatom SA, a Spanish company that provides training services to nuclear power stations.
"We are using everything from China, such as smartphones, computers, pens and clothing. Nuclear technology is different from that, because China is a newcomer. But it is only a matter of time before the technology is proved reliable," the expert said.