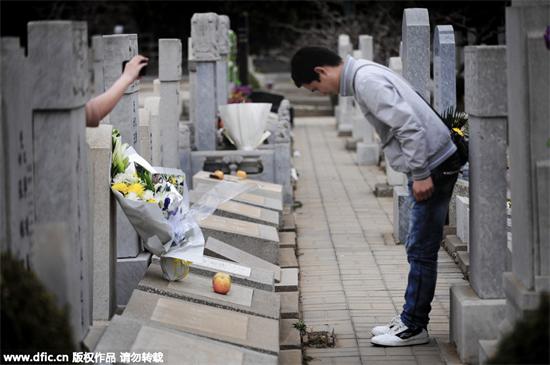 Mr Deng bows in front of a tomb of his customer's late family member. He offers the tomb-sweeping service in his spare time, whichincludes mourning, reading a script aloud, pouring liquor, burning paper sacrifices, and presenting flowers. [Photo/IC]
Dying for a profit Finding an ideal resting place for the deceased has become big business, reports Cai Xiao.
Finding a peaceful resting place for your deceased loved one has become an expensive business in China.
In Beijing, for instance, in the All Buddha Cemetery on the outskirts of the city, a 3-square-meter plot might set you back as much as 1.2 million yuan ($193,500).
Founded in 1994 on a mountain in Mentougou district, the cemetery offers two types of graveyard. There's the "general" one offering plots built and designed in simple rows, with prices ranging from 120,000 yuan (0.8 sq m) to 238,000 (1 sq m).
Then there's the company's "artistic" graveyard, with plots laid out within a carefully tended lawn or nearby lake. Customers choose the exact location and design of the tombs themselves, with prices starting at 528,000 yuan (1.5 sq m).
"Beijing has seen a surge in the prices of cemeteries in recent years. The average price of a 1-square-meter plot in a general cemetery has increased to around 200,000 yuan compared with 60,000 yuan for the same kind of cemetery in 2000," said one female worker surnamed Luo, who has worked at the All Buddha Cemetery for 18 years.
Across the country, the story is similar.
The price of a plot in a no-frills site in Fushou Yuan (translated as "happiness and longevity park") cemetery in Shanghai's Qingpu district, for instance, ranges from 150,000 yuan to 250,000 yuan and a customized artistic plot there can cost between 300,000 yuan and 500,000 yuan, according to a research report published by China International Capital Corp Ltd.
In Qingdao, local media reports quoted prices of the cheapest cemeteries as starting from 30,000 yuan, right up to the luxury end of the scale at 200,000 yuan, which were said to be selling very well.
Zhang Hong, a 40-year-old man whose father died in 2012, said even back then he spent 50,000 yuan on a 1.25 sq m plot in a cemetery in Xiamen, Fujian province.
"At that time, property prices nearby were just 4,000 yuan per sq m, and the average monthly income was about 5,000 yuan."
The price of a similar plot today would be 110,000 yuan.