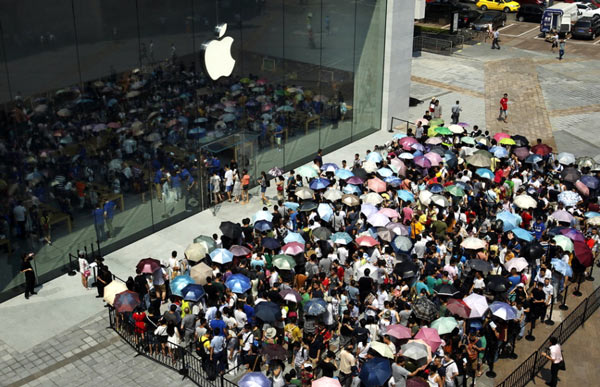 Apple opens a new store in Southwest China's Chongqing municipality on Saturday, July 26, 2014, bringing the number of Apple stores in the Chinese mainland to 11. [Photo/IC]
Original equipment manufacturer (OEM) Foxconn Technology Group has joined hands with Apple China on its "reuse and recycling program", Tencent's technology channel reported on Thursday, quoting people familiar with the program.
According to the report, a subsidiary corporation named "ifengpai" has been registered to build the online sales platform for the recycled devices.
"Engineer Teams from Foxconn will test and repair the used devices by strictly following the firms' original standards," said Hu Guohui, a person affiliated with Foxconn.
According to Hu, all the components that need to be replacement are newly-produced in Apple's authorized OEMs, and non-fixed parts will be delivered to an official licensed environmental protection company for discard.
"All the resale devices come with an one year warranty and customers can check whether the fixed product is provided by Foxconn through the official account of 'ifengpai' on WeChat," Tencent reports.
As of Thursday, the official 'ifengpai' account has posted on its introduction page, that the firm is the exclusive partner of Apple China for second-hand mobile devices. So far no sale items were displayed on the online platform.
A statement from Apple China told chinadaily.com.cn, one of the main aims for this program is to help support the environment.
As of Thursday, details of the trade-in program have not been added to Apple China's official webpage. Apple has yet to reveal the criteria in which the company will use to evaluate used devices collected by Apple retail stores and which third party OEMs be part of this newly launched project.
Foxconn has not publically commented on this program.
The used phone market in China witnessed rapid growth in recent years as the nation's demand for consumer electronics is booming.
Statistics from Science and Technology Daily's report shows that, as of July 2014, China has hit a peak with electronic waste. The nation produces 2.3 million tons of e-waste annually. The annual scrap rate of consumer electronics has increased from 5 percent to 10 percent year-on-year.
Science and Technology Daily reports that it is expected by 2020, 200 million tons of e-waste will be produced around the world with half originating from China.
Apple has long been pushing to reuse and recycle devices. According to the company's website, since October 2002, Apple has encouraged residents of the city of Cupertino -- home of Apple's worldwide headquarters -- to recycle their used or unwanted computers and home electronics free at Apple's Cupertino recycling collection facility.
The company claimed that with materials reprocessing and component reuse, it often achieves a 90 percent recovery rate based on the weight of the original product.
On March 30 this year, Apple has expanded its trade-in program in the US, UK, Canada, France, Germany and Italy to include smartphones from other manufacturers, such as HTC, Samsung, and BlackBerry.