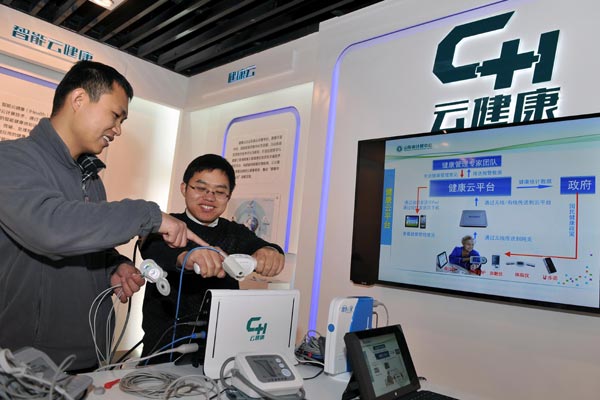 Scientists in Jinan, capital city of Shandong province, collect physiology data through a cloud health system developed by the Shandong Academy of Sciences. [Photo/Xinhua]
Though a newcomer in the global cloud computing market, China is undoubtedly the leader in terms of growth potential and adaptation of new technologies, said industry experts.
According to market consultancy firm IDC, China's public cloud services market will expand at a sustained compound average annual growth rate of 33.2 percent from 2015 to 2018.
According to IDC's China Public Cloud Services Tracker, during the first six months of 2014, the market value of the country's public cloud services surged 46.7 percent to $327 million. The total market value for 2014, though not published yet, was expected at about $717 million.
During the first six months of last year, Aliyun, the cloud computing brand of e-commerce giant Alibaba Group Holding Ltd, took up the lion's share of China's public cloud market for the first time with its market share rising 22.8 percent.
China Telecom Corp Ltd and China United Network Communications Group Co Ltd were ranked second and third, respectively. Microsoft Corp's Windows Azure, the first international cloud service provider to enter China in 2013, was ranked fourth, while Amazon Web Services came in fifth.
"This means that international brands are slowly catching up in the Chinese market and gaining recognition among Chinese users," said Chen Lie, a market analyst at the services research department of IDC China.
Shen Jianyong, senior market analyst at the telecommunication research department of IDC China, said that last year was significant for the cloud computing industry due to the rapid changes in the deployment model and the shift toward unified services. It could be termed as the beginning of China's unified communications cloud market, he said.
"We have noticed significant growth among Chinese companies in terms of their acceptance of a cloud deployment model and their interest in transferring to cloud. The unified communication services providers have also noticed that there is little chance for them to increase income in the traditional market," he said.
IDC believes that this year there will be an explosive growth in cloud computing, big data and mobile technologies.
Wang Yue, research manager of Vertical Industry Research and Consulting Department of IDC China, said: "The manufacturing industry will face huge challenges due to slowing growth, especially during the restructuring period. Companies will also encounter more difficulties in the production process. As a result, the need for transformation and upgrading will become more urgent. Under these circumstances, innovation will definitely be major driving forces for development."
Studies conducted by Career International, a Beijing-based human resources management service provider, have revealed that companies are increasingly turning to cloud computing, mobile devices, portable office equipment and social media in the digital era and embracing high-end technologies for fast growth.
As a result, professionals for data centers, cloud computing analysts, systems and information technology architects and software engineers will be in huge demand.