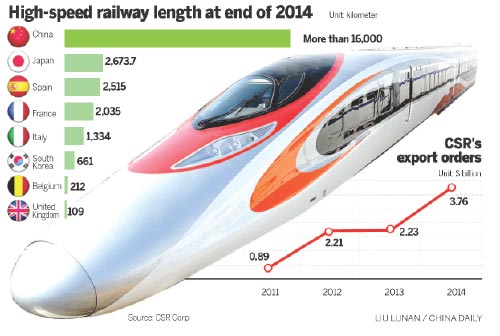 An increasing number of Chinese companies are emerging on the world stage as they strive to establish their brands outside the country.
Xiao Liang, a machinery worker in his mid-30s who lives in the eastern coastal city of Qingdao, Shandong province, wants to visit all the famous places served by trains that pass through his city.
But that list gets longer all the time as the rail network expands.
"When I was a student, getting to Beijing was an overnight trip. Now, it's less than five hours, and I've read that by 2018, it will take only half that time. That's unbelievable!" he said.
China has more than 60 percent of the world's high-speed railways, with a network covering more than 16,000 km as of the end of 2014, according to official figures.
The rapid development of the high-speed rail network has brought vast changes to life in China, making it easier and more affordable for many people to get around the country. And the rapid trips are set to get even faster.
CSR Corp Chairman Zheng Changhong said that his company has designed a prototype high-speed train that runs at a test speed of up to 500 km per hour.
"We're testing state-of-the-art technologies in this field and preparing for the next generation of high-speed trains," said Zheng.
CSR's current product portfolio covers high-speed trains that run up to 380 km per hour, as well as other rolling stock such as subways, trams and locomotives.
"Our products have passed rigorous tests in extreme weather and various environments ... deserts, very low temperatures and high altitudes. That gives us a competitive edge," said Zheng.
Compared with international competitors, Chinese train producers have a clear advantage in terms of cost, delivery time, manufacturing capacity and complete product portfolio, he said.
The high-speed rail network is a "calling card" for China, as the country is upgrading its industrial base and restructuring its economy to focus on sectors that generate higher added value.
Premier Li Keqiang has played the role of salesman for the high-speed train sector, promoting the technology to about a dozen countries in the past two years, said Zheng.