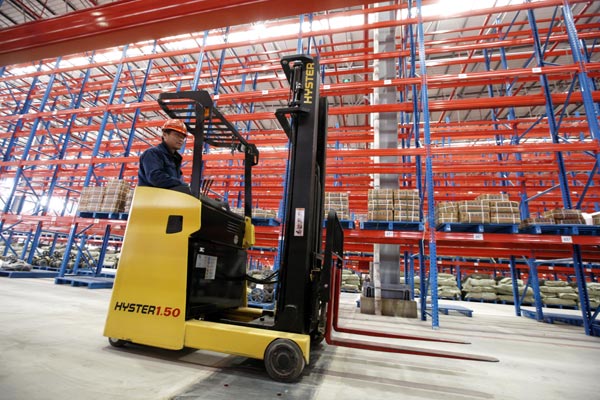 A warehouse of a logistics company in Huaibei, Anhui province. Although the country's labor costs are rising, many Indian businesspeople still regard China as an easy place to operate. [Photo/China Daily]
Indian Prime Minister Narendra Modi wants the country's companies to embrace their homeland as a manufacturing base. It's a hard sell for businesspeople like Himanshu Baid.
Baid can still make more money in China even though he pays his workers three times more than at his two factories in India, which supply the domestic market. Congestion at ports, a lack of skilled workers and a shortage of raw materials offset any advantage India has with cheaper labor costs, he said.
"It was a risk for a small company like ours, but it worked as China is an easy place for business," said Baid, head of Poly Medicure Ltd, a New Delhi-based company with an annual sales of $53 million. "It's a struggle in India."
Modi has sought to reverse those perceptions since taking office last May with a policy initiative to entice companies called "Make in India". Industry groups are now looking for him to fill in the details when his government presents its budget on Saturday.
"What India must demonstrate is a convincing vision and the means to implement it," said Jean-Pierre Lehmann, a professor of international political economy at the IMD, a business school in Lausanne, Switzerland.
"There is a lot to be done that will require profound transformation in policies, structures and attitudes."
As part of "Make in India", Modi plans to raise the share of manufacturing in the economy to 25 percent by 2022 from the current 18 percent. Doing so will create 100 million jobs, the government estimates, enough to absorb the world's largest working-age population.
In the seven decades since India achieved independence from the British in 1947, the share of industry in the economy has remained largely unchanged. Services have replaced farming as the dominant growth driver, and now account for 65 percent of the economy, according to the Finance Ministry.
While China emerged as the world's factory with manufacturing accounting for about one-third of its economy, India suffered from stifling bureaucracy that required permits to produce goods until 1991. English-language skills and an edge in information technology have allowed India to win back office business from a range of multinationals since then.
"The goal should be to strengthen Indian manufacturing so it can stand on its own and compete effectively in domestic and world markets," said Eswar Prasad, a former chief of the International Monetary Fund's China division and now an economics professor at Cornell University.
"Compared with China, India has a cheaper and younger workforce that could boost the country's attractiveness to foreign investors."