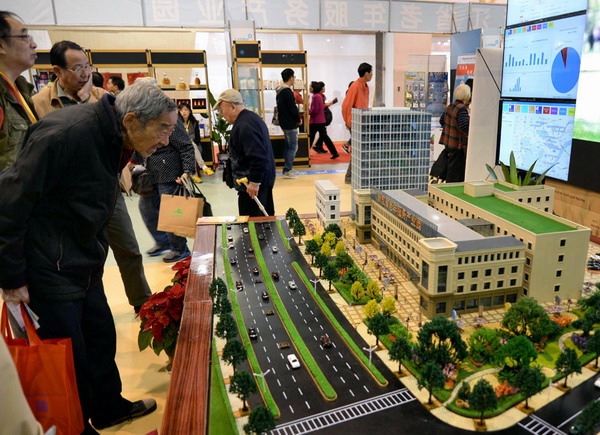 An eldery man inspects a model of an apartment complex for the elderly at the third International Old-age Services Expo in Hangzhou city, East China's Zhejiang province, Nov 13, 2014. [Photo/Asianewsphoto]
BEIJING - China announced Wednesday it would encourage private investment in the elderly care service industry to help with its aging population.
Investors are encouraged to run elderly care facilities, including nursing homes and recreation centers, according to a document issued by the Ministry of Civil Affairs, together with nine other government departments.
It said that private investors could cooperate with the government to build and develop facilities. The government will also increase investment in this sector.
More than 50 percent of welfare funds collected through lottery sales should be channeled to elderly care and no less than 30 percent should be used to support private-owned services, according to the document.
It also required health authorities to support the establishment and operation of clinics inside elderly care facilities.
People aged 60 and over accounted for 14.9 percent of China's population by the end of 2013, higher than the United Nations' 10 percent threshold for an aging country, according to the Ministry of Civil Affairs.
It is estimated that the aging population in China will reach its peak in 2030.