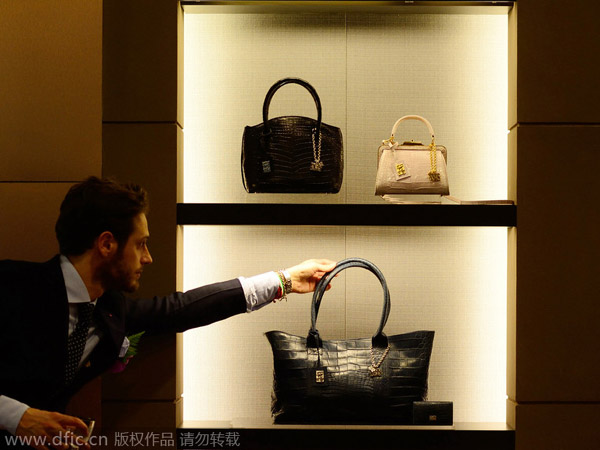 A employee puts a handbag on the display shelf in a store in Hangzhou, Zhejiang in May 18, 2013. [Photo/IC]
SHANGHAI - Nothing could stop Chinese holidaymakers from taking overseas luxury shopping trips this Spring Festival, and no one could stop the souring romance between global luxury brands and the Chinese market.
China's luxury market has experienced a negative trend for the first time after eight years of consecutive growth, according to consulting firm Bain & Co's 2014 China Luxury Market Study, which was released in January.
Growth of luxury goods on the Chinese mainland was down 1 percent to 115 billion yuan ($18.7 billion) in 2014, with watches, men's wear, and luggage and bags being hardest hit, the study showed.
Poor sales vs rich demands
Sales of Swiss luxury giant Richemont dropped 4 percent in the third quarter of 2014, an epitome of the poor performances of some prestigious names including Montblanc, Rolex, Armani and Ferrari.
Hugo Boss shut seven mainland shops in 2014, followed by six shops from Ermenegildo Zegna and four from Burberry.
The amount of polished diamonds imported into China declined for a fourth consecutive month in January as a result of a weak domestic market as well as sluggish global economic recovery, according to the Shanghai Diamond Exchange.
Corruption and bribery were said to have driven unsustainable growth in China's luxury market, where expensive watches, bags and clothes were given in exchange for "favors".
Although luxury retailers are entering winter amid the ongoing anti-corruption campaign, "daigou" (overseas shoppers who buy and send luxury goods to customers in China) are embracing the spring of their career.
The Bain study showed that daigou had an estimated market value of 55 billion yuan ($8.96 billion) to 75 billion yuan in 2014, which contributes to the fact that 70 percent of luxury goods bought by Chinese were purchased abroad or through daigou services.
A report from Fortune Character, a domestic luxury market research institute, claimed that Chinese customers brought a whopping 46 percent of global luxury goods worth $106 billion in 2014, compared with a mere $25 billion rung up domestically.