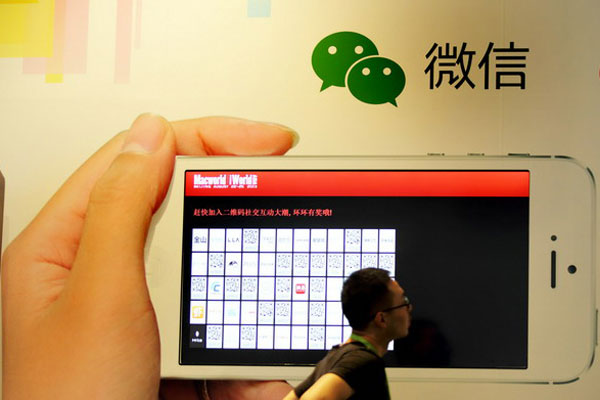 WeChat, now China's biggest instant messaging platform, is expanding its horizons and has become a primary e-commerce platform in its own right. [Provided to China Daily]
More than 3 billion red envelopes were sent and received online via WeChat, the most widely used mobile messaging application in China, during Spring Festival this year.
Statistics from WeChat, which is owned by Internet giant Tencent Holdings Ltd, showed that 3.27 billion red envelopes had been sent and received by WeChat users between Feb 18 and Feb 23 with 1.01 billion of them being exchanged online within 24 hours on Feb 18.
At the peak time, which came in the first two minutes on Feb 19, as many as 1.65 million red envelopes were opened on WeChat every 60 seconds.
It seems that male WeChat users were more generous than their female counterparts. Out of all the WeChat users that gave online red envelopes, 52 percent were male while 53 percent of all the recipients were female.
Regionally speaking, People in South China's Guangdong province topped all other provinces in China in terms of the number of red envelopes given via WeChat. Guangdong is followed in order by Zhejiang province, Beijing city, Jiangsu province and Shanghai city.
The game of giving red envelopes online was invented by WeChat during the 2014 Spring Festival in order to gain new mobile payment users. Many Internet companies have followed suit and introduced their own red envelope services this year.
Alipay, China's largest online payment tool backed by Alibaba Group Holding Ltd, said on Tuesday that more than 100 million people in China got into its red envelope service during Spring Festival holiday, which ended yesterday.
Related Story:
Libras lick contest for red e-envelopes by Meng Jing, China Daily
Libras were the most generous among the 12 signs on the Western zodiac in terms of giving cash-filled red envelopes online, Alipay, the nation's most widely used online payment tool, said on Tuesday.
Alipay is a unit of Zhejiang Ant Small & Micro Financial Services Group Co, an affiliate of Alibaba Group Holding Ltd.