Haute Couture Spring/Summer 2015 fashion show kicked off in Paris on Jan 25, 2015. Shandong, China-born fashion designer Laurence Xu with his 30 Dunhuang-themed elegant garments made a great splash at the event, becoming the only Chinese designer to enter the Paris's haute couture fashion week for the second straight year.
Xu designed a famous dress for Chinese actress Fan Bingbing when she attended the "Robin Hood" Premiere at the Palais des Festivals during the 63rd Annual Cannes Film Festival. The dress was inspired by Chinese emperor's dragon robe.
Haute couture can be referenced back as early as the 1700s. It refers to the creation of exclusive custom-fitted clothing constructed by hand from start to finish. An haute couture garment is often tailored specifically for a wearer after taking body measurements into account. Considering the amount of time, money, and skill that goes into creating every piece, haute couture garments are also described as having no price tag.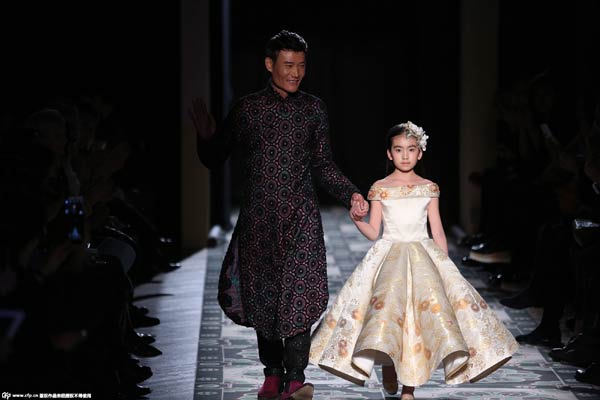 Chinese fashion designer Lawrence Xu appears with a model at the end of his Haute Couture Spring/Summer fashion show. [Photo/CFP]