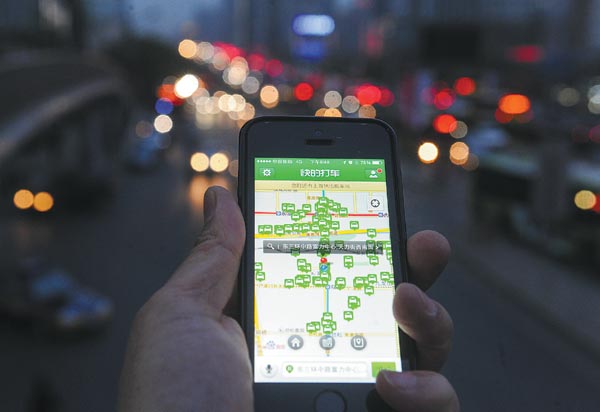 Car pick-up apps have been on the rise in China, but many are deemed illegal. The Chinese government encourages innovation in the sector, but it has vowed to crack down on illegal businesses. [Photo/China Daily]
Regulators are promising changes in China's taxi industry following strikes by drivers in at least seven major cities over complaints about low pay, high charges imposed by taxi companies and competition from ride-hailing apps.
China News Service on Thursday cited experts who said taxi companies, many of them monopolies, were hurting drivers by charging fees of up to 9,000 yuan ($1,450) per month for use of a cab. The report appeared on websites of numerous Chinese news outlets.
Xinhua News Agency, in a report on its microblog, cited the Ministry of Transport as promising a "breakthrough" in creating a "Modern transportation industry" but gave no details of possible changes.
Strikes have been reported in major cities including Nanjing in the east, Chengdu in the west and Shenyang in the northeast.
Drivers cited by media also complained about competition from ride-hailing apps such as Uber that are used by private drivers. The Ministry of Transport announced last week drivers of private cars would be barred from offering services through such apps as a safety measure.
China taxi drivers have protested repeatedly in recent years over conditions in their industry. Most drivers are treated as independent contractors without salary or other benefits. They have no bargaining power with taxi companies that are allowed to set their own rates for what drivers must pay for use of a cab.
The People's Daily warned on Jan 6 that rising use of ride-hailing apps would force changes in the industry.
"The current monopoly has long been criticized," the newspaper said. "The large amount of money that must be handed to taxi companies will have to be gradually reduced.