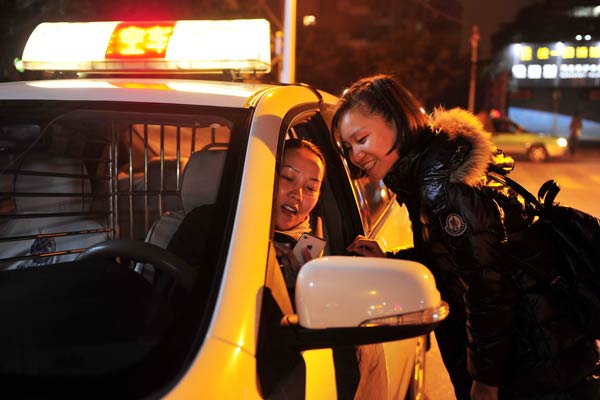 A taxi driver checks her smartphone with a passenger in Fuzhou, East China's Fujian province, Dec 12, 2014. [Photo/CFP]
BEIJING - It's not easy being a taxi driver in China. Long hours and low pay often leave drivers feeling frustrated and angry, which eventually rubs off on customer service.
The growing frustration in the taxi industry was brought to the spotlight in recent weeks after drivers in several cities went on strike, including in Shenyang, Nanjing, and Jinan.
In the most recent strike, hundreds of drivers in East China's Jinan city suspended service, with taxi drivers citing unrealistic high franchise fees amid pressures from new ride-calling apps used by Internet firms and car-rental companies.
In China, a majority of taxi drivers are required to rent authorized taxis from commercial companies. In order to do so they pay rental fees which are often described as exorbitant. Unauthorized private vehicles are banned from the taxi market on concerns of security and market order.
In the past, taxi drivers have demanded an increase in base fares and lowered franchise fees collected by taxi companies. But car-calling apps that affect their business are also under fire, stoking concerns of a looming change in how the industry operates with mobile Internet technology. Limited services monopolized by a handful of taxi firms are increasingly failing to meet the demand of an expanding urban population.
An online survey launched since Sunday by Xinhua News Agency on its website has found more than 70 percent of respondents feel it is difficult to hail a taxi in Chinese cities.
Of almost 200 respondents that took part in the survey as of Tuesday, 75 percent believe market monopoly is the major cause to the sector's tension and poor services, such as long wait periods or being refused rides.
Due to these unsatisfactory experiences, 77 percent of the respondents say it is highly necessary to break the monopoly. Meanwhile, they are looking forward to new services enabled by mobile Internet technology.
According to the Xinhua survey, 25 percent of respondents say they regularly use ride-call apps. Another 21 percent say they are using such services occasionally.