2015: What is ahead for equities
Updated: 2015-01-06 13:26
(chinadaily.com.cn)
Editor's note: China's A-share market, suffering from depressed valuations for years, showed very definite signs of a rebound in 2014. Analysts say international investors will have a bigger involvement in China's A-share market as the authority is expected to broaden the investment channels and speed up the internationalization of the Chinese currency.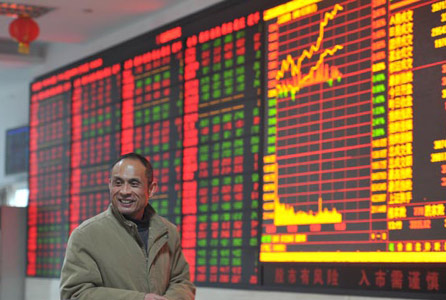 Strong year to spark more foreign interest
The government has already taken numerous steps to ease restrictions on foreign capital in the domestic stock market. You must have heard about QFII, or, more recently, the Shanghai-Hong Kong Stock Connect. Read more>>
Liquidity vital to cementing stocks outlook
The year-end stock market rally has sucked in billions of yuan of new money from hundreds of thousands of investors, ending a slump of many years. Many investors are now taking stock of their gains while wondering what to expect in 2015 and what to watch to determine the market's direction. Read more>>
On November 30, 2013, China Securities Regulatory Commission said China would resume initial public offerings in January 2014 after a freeze lasting longer than a year and a reform plan on new listings has been carried out.

On December 30, 2013, the CSRC said five companies out of 82 that had finished the IPO review and approval process received written approvals. Another six companies got their written approvals the next day.
On January 9, Chinese drug maker Jiangsu Aosaikang Pharmaceutical Co Ltd had published a financing plan to issue 55.5 million shares at 72.99 yuan ($12.07) per share, a price-to-earnings ratio of 67, far higher than the average PE level in the pharmaceutical sector. In the offering, 43.6 million of the shares to be issued were to be transferred from the holdings of former shareholders.

On January 10, Aosaikang announced to suspend its IPO.

On January 12, the commission introduced a regulation on the pricing and issuance of new shares.
On March 5, Premier Li Keqiang said China is stepping up to develop multi-level capital market and promote the registration-based IPO system reform.

On March 6, CSRC Chairman Xiao Gang said they are studying the registration-based IPO system, which would be finished this year. Revision of the Securities Law is the premise, so the implementation would be in 2015.

On March 27, the commission said a company applying for IPO can choose the listing destination of Shanghai or Shenzhen by itself.
On April 10, a plan to allow cross-border stock trading between the Hong Kong and Shanghai stock markets was presented, the China Securities Regulatory Commission said in a statement with the Securities and Futures Commission of Hong Kong.

On November 17, the Shanghai-Hong Kong Stock Connect program began.

On November 28, CSRC said the draft of a registration-based IPO system had been completed and would be reported to the State Council by the end of November.
| | |
| --- | --- |
| | By December 25, there had been 653 companies waiting for being approved by CSRC for IPO, of which 38 had finished almost all procedures. There were 125 companies had IPOs in Chinese A-share market financing 66.9 billion yuan, of which 43 companies went to Shanghai Stock Exchange and 82 got listed in Shenzhen Stock Exchange. |
Hong Hao, managing director and chief strategist at BOCOM International Holdings Co Ltd
The last few months of 2014 witnessed the return of large-cap stocks. Next year will be a continuation of 2014, and the market will likely confound skeptics.
Terence Ho, Ernst & Young's IPO leader for greater China
This year has been one of recovery for many blue-chip, undervalued A-share stocks. With an expectation of the loosening of government policy, including monetary policy, I am optimistic about IPO activity in 2015, which will be underpinned by a strong capital market performance.
Chen Li, chief China equity strategist, UBS Securities
In 2014, investors began to regain confidence in the stock market while losing interest in economic growth. In 2015, we expect a bull run for large-cap issues but a bear market for small-caps.
Alain Bokobza, Societe Generale's head of global asset allocation
In 2014, with fears of a hard landing fading and rising anticipation of further policy loosening, the equity market in China outperformed most other major stock markets. Chinese equities are of exceptionally good value, trading at a 10.7 percent risk premium, which is the highest out of the 50 markets we follow. We forecast 35 percent upside potential for China A shares by December 2015 and 14 percent upside potential for 2016.
...