Restaurant owners all share the same headaches-customers complaining about errors made by waiters in taking their orders, slow service because the waiters are too busy, and the high cost of hiring staff.
These problems simply will not happen with robots. They are designed to provide services strictly according to the orders they have received and will never complain about being exhausted.
More importantly, they are a good way for promotion as robot-thememed restaurants are still rare although there have been media reports about robot-themed restaurants in Chengdu, capital of Southwest China's Sichuan province and in Harbin, capital of Northeast China's Heilongjiang province.
And now, robots as waiters/ waitresses have come to serve diners in Xuchang, a third-tier city in Central China's Henan province.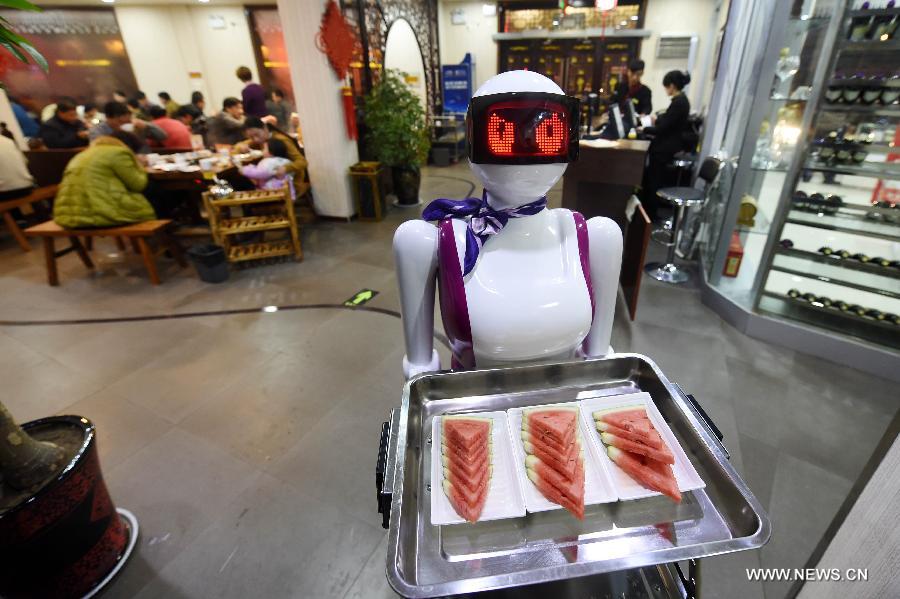 A robot waiter serves fruit to customers at a restaurant in Xuchang, Central China's Henan province, Jan 11, 2015. The robot, worth $13,000, has been put into use to serve customers at the restaurant for ten days. [Photo/Xinhua]