The 37-year-old Jordanian came to China to seek work 15 years ago. He labored at an Arabian restaurant in Guangzhou at first, capital of China's Guangdong province, where he met and married his wife, Liu Fang, a Muslim from East China.
The couple later ran their own Arabian restaurant in Yiwu, a city well-known for its small commodity trade. As one of the few Arabian restaurants in Yiwu, the small business was an instant lure for many Arabs in the locality, and managed to earn a good reputation as well as a surging number of customers.
Now the couple not only have their own popular restaurant, but also operate a foreign trade company that sells a variety of goods. With the loving wife, two young kids, friends and a good business, Mohannad's story has inspired many.
President Xi Jinping praised the young man's diligence in an address last year at the opening ceremony of the sixth ministerial conference of the China-Arab States Cooperation Forum in Beijing. Mohannad has come a long way from being a struggling migrant worker to being recognized by President Xi as a shining example of China-Arab cooperation.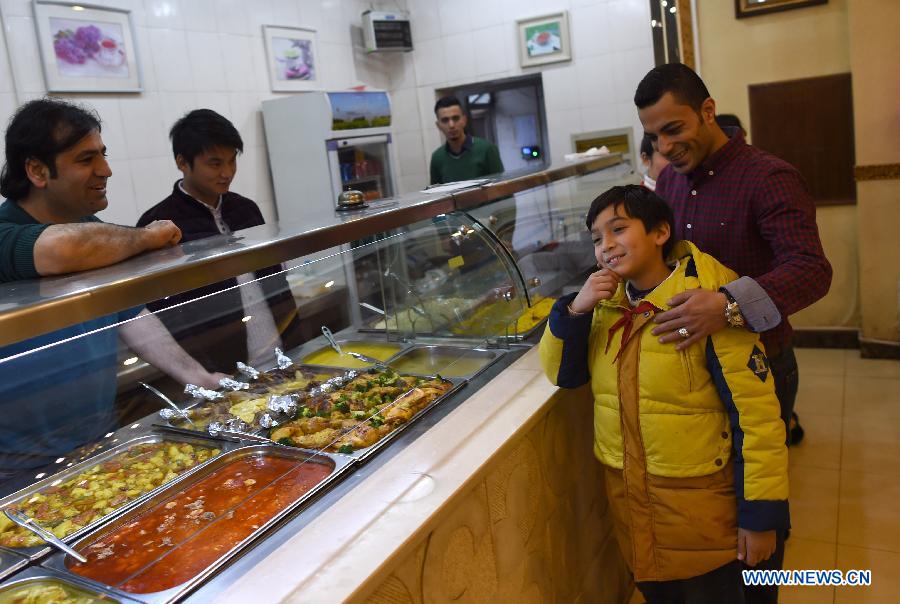 Liu Yifei (R, front), the younger son of Jordanian businessman Mohannad Shalabi, stays at the Arabian restaurant of his father in Yiwu City, East China's Zhejiang province, Jan 13, 2015. [Photo/Xinhua]