A 'silent' restaurant has received rave reviews from diners for its service in Changchun in Northeast China' Jilin province. It's described as a "silent" restaurant because all the waiters and waitresses there are hearing impaired or mute, reports the New Cultural Newspaper on Monday.
The restaurant appears similar to other hotpot restaurants at first sight. Upon entering, however, patrons will notice that the waiters and waitresses working there use body language and sign language to communicate with consumers.
When ordering dishes, the consumers can tick off the items on the list. If they need service, they simply press the bell at the table and waiters soon arrive to help. And 12 pictures with sign language are set at each table to indicate what the consumers want, like more water, an extra serving of soup, beer and so on.
An official from the Disabled Persons' Federation says that all restaurant employees, except the four chefs in the kitchen are deaf-mute.
Zhu Li, the manager of the restaurant, who has been working in the catering industry for years said these disabled people are diligent and that they valued their job. She had some worries when starting the restaurant, but operations have been smooth so far and consumers have had a positive reaction to the staff.
Ma Liyan, a deaf-mute waitress said she had faced discrimination earlier, with most restaurant owners firing her because of her disability. She said she felt secure working in this new restaurant.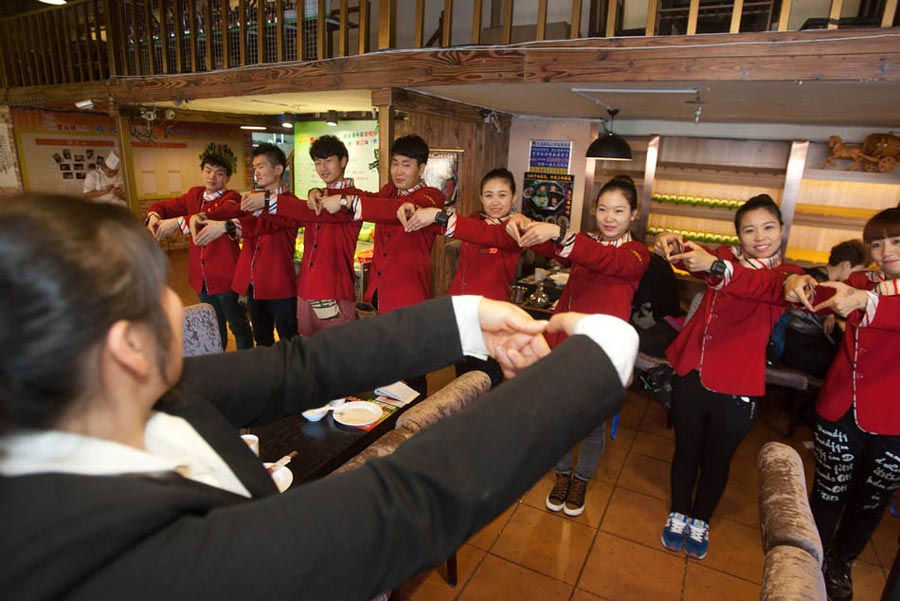 Hearing impaired waiters and waitresses pose for a photo at a 'silent' restaurant in Changchun in Northeast China's Jilin province, Jan 13, 2015. [Photo/FP]