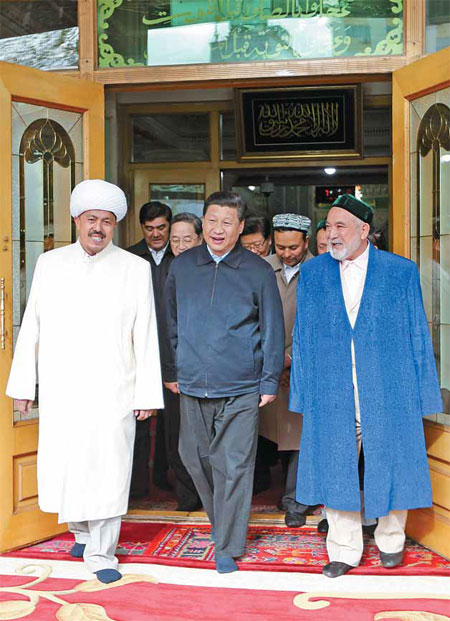 President Xi Jinping visits the 120-year-old Yanghang mosque in Urumqi. To show his respect for Islamic customs, Xi took off his shoes before entering the building. He also sat with a group of religious leaders and listened to their views about regional issues. Lan Hongguang / Xinhua

Preventive measures stressed during the president's Xinjiang visit, Cui Jia reports in Kashgar and Urumqi.

Sweat mixed with dirt streamed down the face of Arken Tulak, chief of the Naizerbage police station in the city of Kashgar in the Xinjiang Uygur autonomous region.
The 43-year-old had just taken part in routine training with his men, all armed with long batons and shields, in the middle of a mini sandstorm.
"In three quick moves, we can disarm a knife-wielding terrorist. We displayed these unique combat maneuvers to President Xi Jinping and he seemed pleased," said Arken Tulak, speaking the day after Xi visited the police station.
Xi spent four days in Xinjiang, starting his visit in the southern city of Kashgar on April 27. It was his first visit as president to a region that has seen a sharp increase in terrorist attacks.
The most recent, which left three people including the two attackers dead and 79 injured, targeted Urumqi, the regional capital, on Wednesday.
The two assailants stabbed people at the exit to the South Railway Station before detonating explosives.
Officers from a nearby police station arrived at the scene less than a minute after the explosions, thanks to their improved training program.
Police published the identity of one suspect, from Shaya county in the southern Xinjiang prefecture of Aksu. They also launched investigations into the suspects' backgrounds and said the number of terrorist cells formed among family members has been rising.
Xi inspected the armed police and People's Liberation Army troops based in Kashgar as soon as he arrived in the city. He urged them to improve the joint anti-terrorist arrangement and conduct exercises aimed at neutralizing terrorist networks, Xinhua News Agency reported.
Xi, who is also chairman of China's Central Military Commission, ordered the PLA to play a stronger role in combating violence and in assisting the local government to deliver a "crushing blow" to terrorists.
The next morning, he stepped into Arken's police station on the outskirts of Kashgar city. "That Xi decided to come to Kashgar first shows that he attaches great importance to counterterrorism measures, especially at the grassroots level. After all, everything is based on social stability," Arken said.