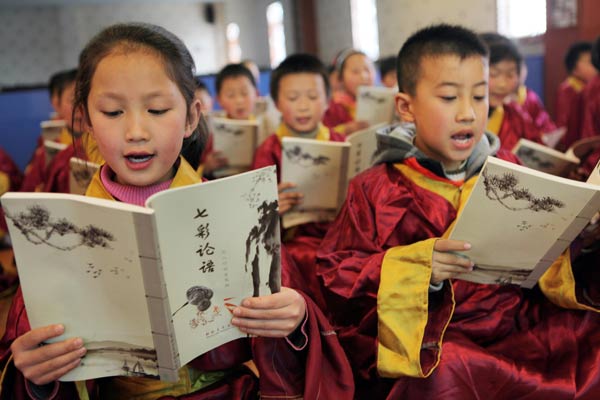 Students in traditional Chinese clothing at a primary school in Ganyu, Jiangsu province, read the Analects of Confucius on Tuesday. SI WEI / FOR CHINA DAILY

Reading is becoming a fashionable, multiplatform social activity in China, reports Sun Ye in Beijing.
Reading between the lines
In the past 12 months, several major players in the Chinese book industry and researchers have conducted surveys into digital reading habits. Here are some of their conclusions.
Unsurprisingly, all agreed that the e-readership is young, with 60 to 80 percent of them aged 18 to 35. Moreover, they discovered that the most devoted readers tend to be found in large cities, are usually well educated, and are the most-avid readers of books in non-traditional formats. Mobile phones have surpassed all other devices to become the reader's favorite accessory.
Three found that men read more than women - Openbook's online survey concluded that the proportion of men who read on digital devices was 17 percent higher than women. The number was 14 percent, according to iResearch, while Tianyi Reading, a popular digital-reading platform hosted by China Telecom, found that it had almost double the number of male customers versus female, with men accounting for approximately 65 percent and women 35 percent.
More than half of Openbook's interviewees expressed the view that e-books should cost 70 percent less than physical books. Seventy percent of readers will search for free content before paying for content. On average, readers spent less than 30 yuan ($4.80) on e-books last year, according to the consultancy, whose survey results suggested that bookstores are still by far the best way to discover new publications, with better ratings than recommendations from friends or off- and online ads.
According to iResearch the e-reading group mostly comprises people in the "lower-to-middle income" bracket. Moreover, women prefer to read about lifestyles and the arts, while men favor topics such as society, politics and hard news.
The National Reading Survey found that less than 40 percent of readers were willing to pay for electronic content, but those who did felt that 1.28 yuan per copy was a "fair price" on average.
In recent months, social media sites have been deluged with posts bemoaning the decline of reading in China. But according to a new report, the harbingers of doom have been on the wrong page.
Contrary to the rumors, reading is not a dying pastime. If anything, more Chinese are settling down with a good book than ever before, albeit across a variety of platforms, and reading is becoming an increasingly fashionable social activity, according to the Chinese Academy of Press and Publication, which published its 11th National Reading Survey on Monday.
The report, which surveyed more than 40,000 people in 74 cities last year, found that Chinese readers got through 8.8 billion books, 600 million more than in 2012. And it seems they still can't get enough.
According to CAPP, which estimates that the Chinese book market is worth 46 billion yuan ($7.3 billion) per year, the average Chinese reader consumed 7.25 books in 2013 - about one-third in digital format.
In addition, they each read 70 editions of a newspaper and five magazines, spending 50 minutes a day reading online and 35 minutes on physical publications.
Meanwhile, e-reading made a real impression for the first time, with 50 percent of readers endorsing the format in 2013. To put that growth into perspective, in 2012 every person in China read 6.74 books on average.
The most popular subjects were literary works, closely followed by books about lifestyles. Meanwhile, provided the books are cheap enough, readers head to the bookstore twice a year on average to stock up on new material. Most readers thought 13.8 yuan was a reasonable price for a book. Those who don't read, less than 25 percent of the 1.3 billion population, blamed pressure of work for their failure to do so, and 50.8 percent of those interviewed said that at the end of every year they always regretted not spending more time reading.
"The change has been slow and steady, but the trend is clear when you look at it over the long term," said Xu Shengguo, a CAPP researcher who led the survey team. "I think it's an irrevocable trend now," he said. "We are reading more and more, so much that it may well become a lifestyle trend."
That may sound fanciful, but "Reading, my lifestyle", the slogan coined for a government-backed reading campaign that's often seen painted on walls and promoted via talks, is not entirely without foundation.
To boost the pastime, in the past year, the government has been working on a national regulation that will result in the allocation of funding and resources to promote reading for pleasure, as promised in this year's government work report.
"More than 800 million people have taken part in the reading campaign, but growth isn't easy," said Wu Shangzhi, director of the national reading campaign office at the State Administration of Press, Publication, Radio, Film and Television.
This week, to celebrate UNESCO's World Book Day on April 23, the authorities in Beijing and provinces such as Jiangxi, Guangdong, Shaanxi and Anhui, have been handing out free digital reading coupons, operating mobile libraries, offering popular works at discounted prices and conducting searches for "the most-bookish family".
"Getting reading on the government agenda has definitely helped make it a more popular choice. When you are part of a climate that celebrates the habit, it's hard not to get hooked," Xu said.
A rising social activity
In tandem with the rise in the number of books being consumed, reading is also becoming a fashionable, multi-platform social activity.
8.8 billion
number of books read in China in 2013
46 billion yuan
annual value of the Chinese reading market
50 percent
proportion of readers who endorsed e-reading in 2013
"We're human, so we will always be influenced by what other people do. People can't help reading what their friends are reading," Xu said.
As part of the growth of non-traditional reading platforms, WeChat, a social media service owned by Tencent, China's largest Internet portal, is taking advantage of this all-too-human foible.
"It's been transformational. WeChat makes it so easy to share your reading history," Xu said, adding that the platform has many advantages over traditional formats. "It delivers so many pieces that are colloquial, readable and fresh, such as transcripts of lectures. And it's free," he said.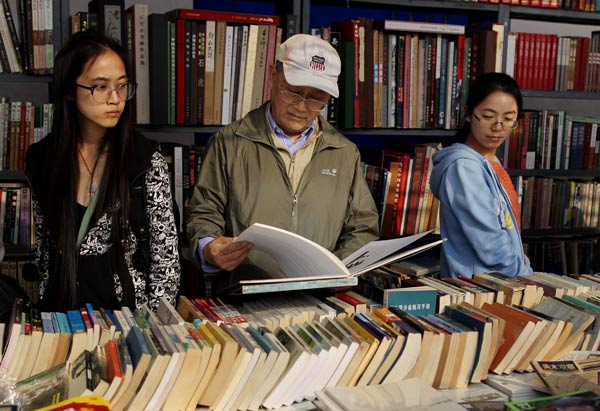 Enthusiasts browse the stalls at the Beijing Book Fair. ZHU XINGXIN / CHINA DAILY