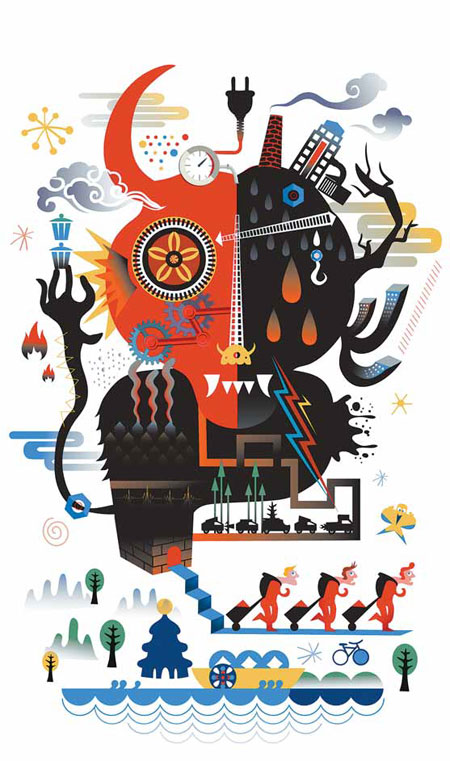 Ma Xuejing / CHINA DAILY 
As pollution lowers quality of life for many foreigners, smaller or coastal cities are becoming a magnet thanks to a good environment, reports Zhang Yuchen
As the Air Quality Index is used more often as a quality of life measurement in some Chinese cities, many expatriates are considering their options.
The air pollution that affects many cities is turning top executives from foreign companies away from the country, according to a Reuters report that cited the results of a survey by the American Chamber of Commerce.
Some 48 percent of the 365 foreign companies that responded said their executives were unwilling to relocate to China because of the poor air quality.
"Many CEOs from foreign firms have expressed their concerns about air pollution. Obviously, it's their big concern now," Fran Fremont-Smith, executive director of the United Foundation for China's Health, said at a conference hosted by the Austrian embassy in Beijing.
However, while the high levels of pollution have undoubtedly led to a minor exodus of expats, others are shunning the larger cities and have opted for smaller places with a healthier environment.
In a 2013 interview with China Central Television, Briton Jason Pym spoke about his work creating a detailed map of the old town in Dali, a city in Yunnan province. The map was a labor of love for the graphic artist, who produced it as a way of cementing his memories of a city to which he feels strongly attached.
"Most people I know have been here (in Dali) for a few years. The air pollution has been getting more and more serious, but has only hit the news as a major problem in the last year or two, I guess," he said.
Pym, from Hertfordshire in the UK, and his Chinese wife Cecilia, have been part of the southwestern city's multinational expat community for 10 years. The net of nationalities has been cast wide, and the long-standing foreign presence includes natives of the UK, the US, Spain, the Netherlands, Poland, Australia, Germany and France.
Many of the expats in Dali have families, and that's one of the city's big draws. It's a great place to raise children, according to Pym, who has a young, Chinese-born son. Because the city is surrounded by lakes, forests and mountains, the area teems with wildlife. On weekends, Pym takes his family to the local hot spring or a swimming pool. "Having a kid helps, because you tend to spend time with other parents, and regardless of whether you're Chinese from Shanghai or Australian from Melbourne, people's reasons for coming to Dali are all pretty much the same," he said.
Before moving to Dali, Pym lived in Shanghai for five years. "I loved living in cities when I was in my 20s, but as I got older (he's now 40) my tastes changed. I like living in a place where I can go for a walk in the woods five minutes from my house," said Pym, who studied Chinese at Leeds University in the UK.
On Sept 13, the Geneva-based International Organization for Migration released the World Migration Report 2013, which stated that there were more than 680,000 foreigners living in China in 2011, a rise of 35 percent from 10 years before.
Both Beijing and Shanghai have resident expat populations of about 100,000.
Heading for the coast
Many expats who leave Beijing to relocate in China opt to move to coastal cities, such as Xiamen in Fujian province or Shenzhen in Guangdong, which are bustling regional centers, but have fewer environmental problems than the major inland centers, according to a report by the Ministry of Environmental Protection.
Smaller, second-tier cities, such as Changsha in Hunan province, which has an expat community of about 2,000, and the southwestern metropolis of Chongqing, which plays host to about 6,000 foreigners, gained few mentions in the report, even though life in these places can be colorful and vibrant.
Tom Strand, a UK native who lives in the Shapingba district of Chongqing, said he hadn't heard of any new expat arrivals who had fled Beijing or Shanghai specifically because of the air pollution. The 20-something, who is opening an agency to sell and distribute British beers, regularly travels around China on business.
The Ministry of Environmental Protection recently released a list detailing the air quality in 74 cities across China in 2013. For the entire year, only three cities - Haikou in Hainan province, Lhasa in the Tibet autonomous region, and Zhoushan in Zhejiang province - met the standards set for PM 2.5 and ozone set by the State Council in 2012.
The revised standards consider the safe level for PM2.5 - particularly harmful airborne pollutants smaller than 2.5 micrometers, which can penetrate the lungs and enter the bloodstream - to be 35 micrograms per cubic meter.
In contrast, the average PM 2.5 reading for Beijing in 2013 was 89.5 mcg per cu m, according to a media release from the Beijing Municipal Environmental Protection Bureau.