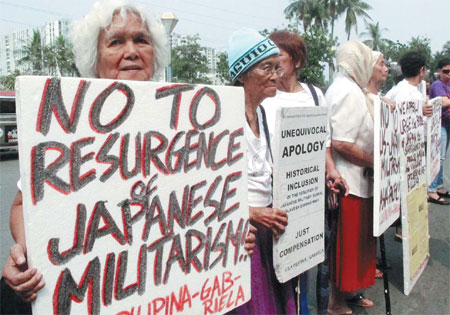 A group of lolas (grandmothers), including 83-year-old Aberan de los Reyes (left), attend a protest in Manila on March 5 to seek justice for victims of sexual abuse during World War II. [Avigail Olarte / For China Daily]
Campaigners call for the plight of women used as sex slaves in the Philippines to be acknowledged by the education system and the Japanese government, as Avigail Olarte reports from Manila.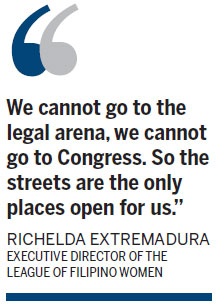 The elderly protesters held their placards in silence but their message came across loud and clear: A call for justice for "comfort women", a euphemism for those who suffered brutal sexual abuse by the Japanese Imperial Armed Forces during World War II.
At a rally held under a scorching sun outside the Japanese embassy in Manila on March 5, one of the victims, 83-year-old Aberan de los Reyes, called on the Japanese government "to apologize and admit it (sexual slavery) really happened". De los Reyes was joined by a group of around 60 women, including family members spanning three generations, at the annual gathering.
In the Philippines, 174 women and girls, some as young as 12, suffered unimaginable horrors during the war. For almost half a century following Japan's surrender, the women were kept in the shadows, faceless, nameless and ashamed. Although 65 of them have died over the years, many of the survivors have banded together to support each other, determined to make their voices heard.
Collectively, they are known as lolas, which means "grandmothers". This year, they took to the rally with extra determination. As tensions have been building in the region because of territorial disputes, Japanese Prime Minister Shinzo Abe has called for a revision of Japan's Constitution to boost the country's military capabilities.
If the revision goes ahead, it will nullify Article 9 of the Japanese Constitution, which forbids the use of war to settle international disputes.
"We don't want any more wars," said Richelda Extremadura, executive director of Lila Pilipina, or the League of Filipino Women, an organization of former comfort women and their supporters. "We appeal to the Japanese people to be vigilant and safeguard the life they have now. Please preserve Article 9."
De los Reyes can recall vividly the day her life changed. She and her classmates, girls aged 12 to 13, were handpicked by Japanese soldiers and escorted from their classrooms. Taken to a garrison nearby, they were locked in cubicles, and repeatedly raped and beaten. At night, they would hear each other's cries.
"We were raped at least five times a day," she said.