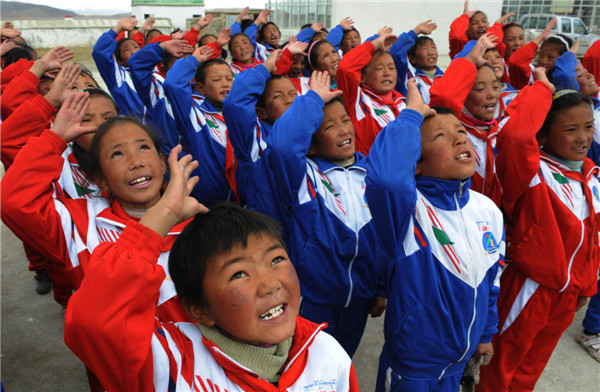 Students attend a flag-raising ceremony at a primary school in Nagarze county, the Tibet autonomous region. A program is being promoted nationwide to encourage schools to share their education resources and help less-privileged institutions. Li Ziheng / Xinhua
Sharing of teachers, education resources would assist less-privileged institutions, report Cao Yin in Beijing and Luo Wangshu in Chongqing.
Cai Xiaodong is considering a radical measure. The principal of the Experimental High School attached to Beijing Normal University, a key institution in the Chinese capital, is planning a merger with the nearby, but less-renowned, Beijing Erlonglu Middle School.
"The schools will become an 'education league', sharing teaching resources and management philosophy," Cai said, adding that the move would allow teachers to rotate between the schools and promote educational equality.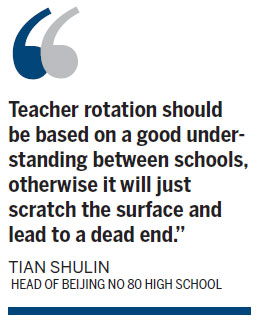 Beijing Mayor Wang Anshun expressed interest in the proposal in January, saying the project would allow principals to have a greater influence on the futures of a larger number of students. But he also urged caution when putting the idea into practice.
Cai's move came in response to a directive by the Communist Party of China Central Committee in November urging local governments to rotate leaders and teachers from top-ranked schools to less-privileged institutions and balance teaching resources.
Three other principals in the Xicheng district of Beijing are also considering involvement with the education league.
Tan Chuanbao, a professor of education policy at Beijing Normal University, believes that rotating teachers through different schools would be an effective way of balancing teaching resources and ensuring the quality of education over the long term.
In some other countries, most notably Japan, teacher rotation is standard practice, according to Tan. "No teacher stays at just one school during his or her teaching career," he said.
While the idea has won praise from some quarters, some education professionals have expressed concerns, arguing that "blind" rotation may lower the quality of teaching and adversely affect teachers' lives.
Gao Xia, a curriculum and pedagogy researcher at the National Institute of Education Sciences, urged in-depth preparation before the policy is put into operation.
"The implementation of the rotation mechanism requires greater legal support. The lack of an overarching plan in our education system means it's crucial that we remain cautious and avoid stopgap measures when carrying out the policy," she said.
Balancing resources
Tan said he was pleased to see some schools taking the first steps to discover innovative ways of promoting staff rotation. "For many years, there was just empty talk instead of action," he said.
It's the first time that such a policy has been written into a major document during a plenary session, leading experts to regard it as proof that the leadership plans to balance resources in compulsory education between urban and rural areas.