Undergraduates blaze a trail with new major, Wu Yiyao reports in Shanghai.
During a financial orientation course at Shanghai Finance University, 19-year-old Li Jing raised his hand and asked if there is a way of laundering money "properly".
A little later, another student said she had heard that even small coffee houses can launder cash. She asked for an explanation of how the practice works and how to spot financial crimes committed under the guise of daily business activity.
Dang Hue, Asia head of the Association of Certified Anti-Money-Laundering Specialists, said in response to the students' questions, "There is no legal way to launder money, because the activity is intrinsically illegal, and anyone involved will be caught and punished."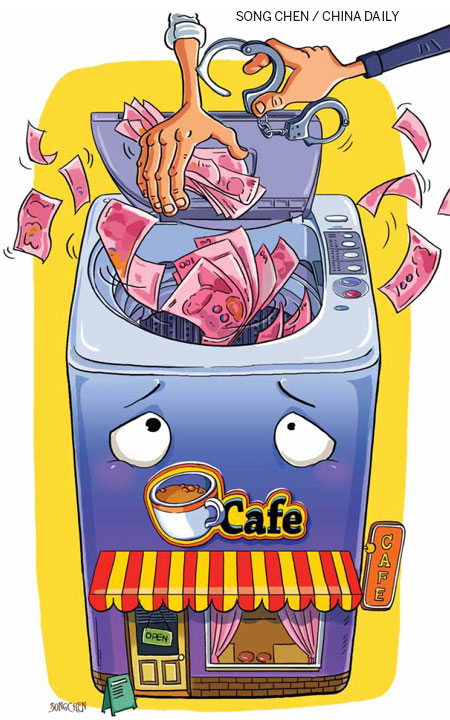 Li and his peers are the first undergraduates in China to major in Compliance and Anti-Money-Laundering, a course created to meet increasing demand from financial markets amid the country's ongoing economic development.
Dang said the students' questions are a sign that compliance and anti-money-laundering are still relatively new concepts.
"There's a long way to go. When the students graduate from this undergraduate program, they will still need more hands-on experience and training to become qualified anti-money-laundering specialists," Dang said.
Compliance, the adherence to business laws and policy, has become a buzzword after recent probes into alleged bribery, corruption and fraud at State-owned enterprises and multinational corporations, especially large pharmaceutical companies.
The students realize that what they learn will be crucial for the healthy development of China's financial and economic system and that the demand for professionals in the field will surge in the next few years.
Supply shortages
According to the International Monetary Fund, laundered money accounts for approximately 5 percent of the combined annual GDP of all the countries in the world, approximately $1.8 trillion. The figure is rising at a rapid rate, with annual growth of $100 billion.
Amid faster-than-ever global capital flows, dirty money, which finances crimes including drug dealing, human trafficking and terrorism, will be "washed clean" by laundering if effective action isn't taken, said Dang.
"As the world's second-largest economy plays an increasingly important role in global economic development and the internationalization of the yuan continues, China's efforts to combat money laundering will have a growing impact on the global economic picture," said Dang.
However, the gap between the supply of and demand for talent in compliance and AML work is wide.
"In Shanghai alone, about 2,000 professionals are needed for compliance and AML work," said Chu Zhen, head of the Department of Finance at Shanghai Finance University. It's likely that it will take a long time to fill all those positions, however, given that the school only can enroll around 50 students a year. The first majors in compliance and AML will graduate in 2017.
Ma Qing, a Shanghai-based headhunter who specializes in the financial sector, said some of the most difficult requests to fulfill come from companies looking for compliance officers.
In the past, many employers put compliance under the direction of other, unrelated departments, and the responsibilities often included a number of miscellaneous functions that had little to do with legal affairs.
"The job prospects were not attractive; the pay was low, the outline of the responsibilities was too vague and compliance units were given very few resources," said Ma.
That may be about to change, though; salaries in the field may rise by 40 percent or even more, and compliance units are being given a say in a wider range of decisions.
"One client on our books told me that as a compliance officer, he feels more respected, involved, and indispensable in his workplace than before. He is not alone in thinking that," said Ma.
The difficulty in finding talent lies in the current dearth of experienced professionals, he added.
"I've been working on filling a vacancy at a bank, but the employer is demanding at least five years' experience in compliance. But that's a very rare commodity because few people were willing to work in the sector given the poor conditions in the past, and very few remained in the field for five years to gain the necessary experience," he said.