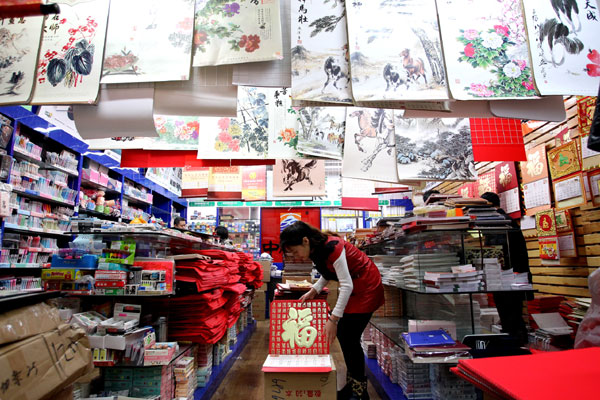 Vendors at Beijing Yongwaicheng Stationery Commodity Wholesale Market have experienced a 'cold winter' because of new anti-corruption measures. [Photos by Zhang Wei / China Daily] 
The ban on using public money to buy gifts is biting hard, He Na reports in Beijing.
Ren Yongjun quit smoking when his son was born two years ago. However, he has recently started again and is now smoking more than ever.
"If you'd bought a large number of calendars and greetings cards at high prices, but could only sell them to a waste collector for 1.6 yuan (26 cents) a kilogram, maybe you'd do the same," the calendar shop owner said, pointing to the boxes piled high against a wall.
Ren, a veteran businessman who has specialized in selling calendars and stationery for 12 years at Beijing Yongwaicheng Stationery Commodity Wholesale Market, said this winter has been the "coldest" he has experienced.
However, he isn't talking about the temperature.
"My sales volume has been just one-fifth of last year's, and most of the goods were sold below cost price.
"That's not even enough to cover my annual rent of 160,000 yuan. Selling calendars used to be a dream business, but now it's become a nightmare. I definitely won't do this in 2014," said the 35-year-old from Wenzhou, Zhejiang province.
Yongwaicheng is Beijing's largest stationery market. Calendars and greeting cards used to be the best-selling items, especially at New Year, when the market got so busy that the shop owners didn't even have time to eat lunch.
This winter, however, the market has been all but deserted and most of the stationery shops have either closed or turned to other products. Those that are open are empty most of the time.
But calendar and greeting card vendors are not the only ones having a tough time; retailers of fireworks, flowers and other gifts have all reported a massive decline in sales, a scene that's being replicated all across China.
According to the shop owners, the decline is due to two documents published in late October and November by the Communist Party's Commission for Discipline Inspection that banned the use of public money to buy gifts.
That means government officials and staff at State-owned enterprises won't receive calendars and greeting cards at the upcoming Spring Festival and they won't be celebrating with fireworks and flowers unless they foot the bill themselves.
Experts warn that some officials have habitually spent public money extravagantly over a long period, tarnishing the image of the government and triggering public discontent.
The documents are extensions of a series of thrift and anti-corruption measures adopted by the new leadership shortly after taking power.
The measures have sent strong signals that the era of government spending to boost the economy is over and that the leadership will police itself rigorously and improve the supervision of officials.
When China's leaders made their first moves against the misuse of public funds in December 2012, many people doubted the policy and predicted it would quickly fizzle out. More than a year later, those doubts have faded because people have realized that the campaign is serious.
Within a few days of publication, the two documents had triggered a wave of canceled orders for gifts and flowers.