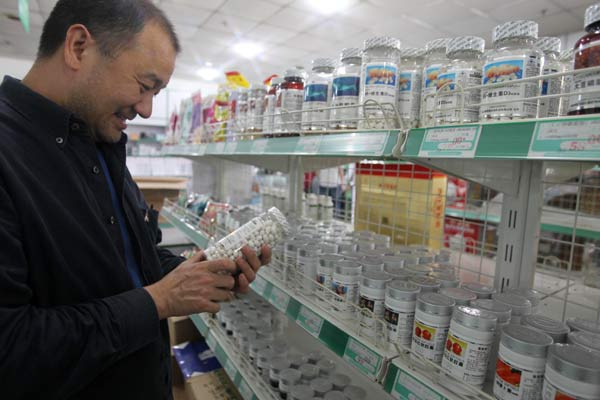 A customer selects a calcium supplement at a pharmacy in downtown Beijing. Many Chinese buy the supplements, but experts have warned of serious health risks caused by excessive intake. WANG JING / CHINA DAILY
Nature's way is still the best to boost nutrient intake, health experts say, reports Yang Wanli in Beijing.
The condition of Yiyi, a 17-month-old Chinese-American girl, has troubled her parents since she arrived in China at the end of last year from her birthplace in North Carolina.
The baby was found to have persistent hair loss, resulting in a small, but noticeable, bald spot on the back of her head. When consulted, Chinese doctors suggested the use of calcium supplements to treat the problem.
"She was found to be bald on the back of her head when she was 6 months, but the pediatricians there (in the United States) didn't mention anything about calcium deficiency. They told me the condition is normally seen in babies with vigorous metabolism in summer and said there was no need for medical treatment," said Yiyi's mother Li Xu, who holds a PhD from Peking University's School of Public Health.
However, she met a different response from three doctors in residential clinics and hospitals in Beijing. All advocated the same solution, extra calcium. Even Yiyi's grandmother believed the baby's baldness was due to calcium deficiency in accordance with the long-held Chinese belief that hair loss and frequent night crying in babies is associated with the condition.
"But the pediatricians in the US excluded this possibility by assuring us that she gets enough from breast feeding. So what can I do?" asked the confused mother.
Yiyi's is not an isolated case. In the past decade, China has witnessed a burst of enthusiasm for nutritional supplements. Official statistics show that the country's total import and export volume of nutritional supplements hit $73.3 billion in 2011, an increase of nearly 40 percent on the previous year. Calcium is a vital ingredient to ensure strong bones and teeth.
"The health of the Chinese people was not very good 40 or 50 years ago, because of the underdeveloped economy and poor understanding of the importance of nutrition," said Li Keji, a professor at Peking University's School of Public Health. "With rapid social development, the nutritional food market and demand have boomed in the past 10 years."
Television advertisements for calcium supplements are so popular among Chinese people that many parents and even some doctors believe that a daily boost is essential. However, nutritionists both at home and abroad warn that excessive calcium intake can be dangerous and is likely to result in kidney stones and calcium deposits in the heart, increasing the risk of coronary disease. Children are the group most at risk.
In March, the Chinese Women's Research Network released a report claiming that more than 90 percent of babies have been given supplementary calcium. The report prompted heated public debate and raised the question of whether the supplements are really necessary.
"When we took him for the regular health check 48 days after birth, the pediatricians suggested that I should give my baby extra calcium as well as vitamins A and D. They didn't ask whether he had any related symptoms. Almost all the parents in our residential area were given the same advice," said Piao Chunnan, the mother of a 2-year-old boy.
The child now has a daily calcium supplement under the guidance of a family friend, a physician who works at the Capital Institute of Pediatrics in Beijing.
In March, a survey carried out in Beijing's Xicheng district by Peking University School of Public Health indicated that 86 percent of parents had given supplementary calcium to their children before they were 6 months old.
Many parents said that the doctors had advised them to administer the supplement to spur growth, according to the report. However, most of the parents had doubts about the necessity of the practice, because they believed that their daily food intake provided the babies with sufficient calcium.
"In fact, it is unnecessary," said Professor Li, who led the survey. He said the World Health Organization's infant nutrition guide states that a young child requires 300 milligrams of calcium per day in the first six months of life and that human milk is perfectly suited to providing the full nutritional needs. The babies can also gain sufficient nutrition through milk formulas.
Most parents check their baby's condition through blood tests or analysis of the hair tissue, but the results may be misleading. "These results can't indicate calcium deficiency," said Li. He explained that some symptoms might result from the daily diet and other factors. "The only medical test to determine whether a baby is calcium-deficient is a bone-density test that shows the degree of maturity and overall health of a child's bones. If the density is low level, a calcium supplement is advised. Meanwhile, rickets is the only reliable medical symptom of deficiency," he said.
He added that the Ministry of Health suggested 300 mg of calcium as the daily intake for babies younger than 6 months, while in the US and Japan the recommended daily intake is 200mg. "The extra 100mg is to ensure a daily intake of 200mg, but that should not be taken as the minimum amount," said Li. He stressed that the ministry's nutritional guide for mothers and babies, released in January, says it is unnecessary to give additional calcium to babies younger than 6 months.
Even though a series of tests showed that her baby was healthy, Piao still joined a group in her residential area to buy Calcium Gummy Bears, a US-made dietary supplement for kids aged around 2 or 3. An Internet retailer called LoveBaby on the portal Taobao sells a variety of these sweets. The brand L'il Critters is one of the most popular and 50 jars priced at 108 yuan ($17) apiece have been sold in the past month alone.
"It is popular among mothers," admitted Piao. When asked about the possible harm caused by taking too much calcium, she said that was impossible. "How can nutrition be dangerous?" she asked.
Negative effects
Doctors Stanley Goldfarb and Ami Patel, from the University of Pennsylvania School of Medicine in the US, said that physicians have seen an increase in the negative health effects linked to excessive intake of supplemental calcium.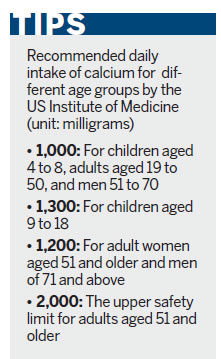 The uptake of calcium supplements is most likely due to people trying to prevent and treat osteoporosis ("brittle bone" disease), but taking too many supplements may result in hospitalization, said Goldfarb.
The US Institute of Medicine's expert committee, which includes bone specialists, concluded that most people don't actually need to take the supplements and warned of serious health risks caused by excessive intake.
According to Goldfarb, much of the data on average calcium intake in the US revealed a deficiency. He said many individuals, particularly young women, have calcium-deficient diets, with an average daily intake of less than 1,000mg, 500mg below the recommended amount. "I can't say whether most people are using calcium supplements, but it is certainly common," he said.
However, infants aged less than 6 months and who are breastfed regularly can receive about 200 mg of calcium from 700 milliliters of milk, which accords perfectly with the recommended intake in the US and Japan, according to Chen Yuming, a professor at the School of Public Health at Sun Yat-sen University in Guangzhou, the capital of Guangdong province. "It means that there is no need for calcium supplements, no matter whether in more developed economies or in China," he said.
In China, calcium deficiency is also a problem for adults, with the average daily intake per person providing only 40 to 60 percent of the recommended dose. However, many parents believe that infants suffer from the same problem. For both babies and adults, a daily calcium intake more than 50 percent higher than the recommended amount may cause negative effects.
"The key is not to take more than the recommended amount. There is no evidence that a daily intake of more than 1,500mg will provide benefits for adults, but there is certainly evidence of the risks associated with calcium overload if larger amounts are taken," said Goldfarb.
He also warned that most people don't realize that supplements can interfere with their medication: "Only your doctor can advise you on what supplements are beneficial to your personal medical history," he said.
Nutrition neglected
But herein lies another problem: nutrition is not an essential class in Chinese medical schools and pediatricians are not given enough time to learn about the subject. Medical students are only provided with 30 classes on nutrition in their entire four or five years of study.
The Ministry of Labor and Social Security had certified tens of thousands of nutritionists by the end of 2011. They undertook various training courses, but few have a medical background and therefore can only provide basic advice.
According to Professor Chen, China has no more than 1,000 university-trained nutritionists. "So we can understand why extra calcium is prescribed to babies, when people are working on the basis of symptoms such as less hair or crying at night," he said.
Although many Chinese infants in cities are likely to be exposed to an unnecessary intake of calcium, Chen said it doesn't threaten their health. "If the levels in their blood or urine are still below the safety limits, I think it's unlikely to cause severe problems," he said.
"But it is important for babies to have vitamin D supplements, because a lack can lead to rickets and anemia," he added. For healthy bones, vitamin D and calcium go hand in hand, because the vitamin must be present for calcium to be absorbed from the digestive tract.
Today's children and babies get less exercise than previous generations and many fail to get enough exposure to sunlight, which helps the body to produce vitamin D and promote better calcium absorption. Chen said that, rather than using the supplements, he encourages parents to maximize the calcium already present in the body by supplementing babies' diets with vitamin D, if they are younger than 2 years.
Contact the reporter at yangwanli@chinadaily.com.cn