Xi meets Finnish Parliament speaker, vows more legislative cooperation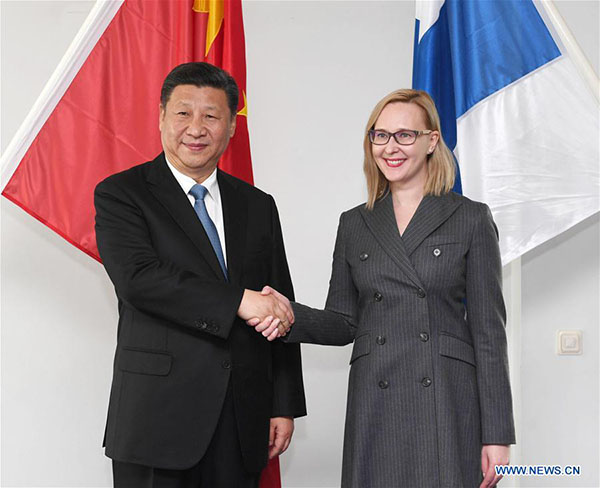 Chinese President Xi Jinping (L) meets with Speaker of the Finnish Parliament Maria Lohela in Helsinki, Finland, April 5, 2017. [Photo/Xinhua]
China attaches great importance to the relations with Finland, President Xi Jinping said on Wednesday, while calling on joint efforts to take bilateral ties to new level to benefit the people of both sides.
Xi made the remarks while meeting with Speaker of the Finnish Parliament Maria Lohela in Helsinki during his state visit to Finland.
Finland has played a leading role among the Western countries to establish diplomatic ties with China and develop bilateral cooperation, Xi said, adding that the two countries have long respected each other.
The development of China-Finland relations has been in fast track now, with enhanced political mutual trust, complementary economic cooperation, various people-to-people exchanges and deep friendship between the people of both countries, Xi added.
The Chinese president spoke highly of Lohela's efforts in pushing forward the exchanges between the legislative authorities of the two countries.
While mentioning that last year marked the 60th anniversary of China-Finland legislative authorities' exchanges, Xi said the cooperation between legislative authorities of both countries is important in bilateral ties.
China supports the legislative authorities of both countries to improve the current cooperative mechanism, Xi said, adding that the two sides should have more active and effective exchanges, and create platform for the dialogue between lawmakers, especially young legislators of the two countries.
During the meeting, Lohela welcomed Xi's state visit to Finland. She spoke highly of China's achievements in economic and social development.
Finland deems China's development an opportunity for Finland, she said, adding that Finland is willing to strengthen cooperation with China in such areas as economy and trade, culture, winter sports and international affairs.
Finnish Parliament would like to enhance communication with Chinese legislative authorities, especially boost exchanges between young legislators, she added.