Renewable energy work to expand
Finland's cooperation will boost China's green development
China is expanding cooperation with Finland on renewable energy, as Beijing works toward its goal of ensuring green development.
Following an agreement in November on an outline that set out intentions, China CAMC Engineering Co, an arm of China's State-owned Sinomach, signed a further agreement with Finland's Boreal Bioref in February that will facilitate the investment of 800 million euros ($854 million) in a new pulp mill.
The final deal was signed during President Xi Jinping's visit. The plant will produce electricity, heat, wood and pine oil from trees.
Heikki Nivala, CEO of Boreal Bioref, said CAMCE's experience in constructing pulp mills and its strategic aim to secure pulp supplies for China will benefit the Finnish company.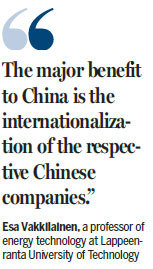 "In addition to being our engineering, procurement and construction service provider, CAMCE will act as a leading investor in the project and intends to take an active role in facilitating pulp sales into China," Nivala said.
China has the largest paper, cardboard and viscose industries in the world. It imports 20 million metric tons of pulp to supply these industries.
Nivala said Finland exports 3 million tons of pulp, of which about 1 million tons go to China, which makes China Finland's largest trading partner in pulp.
China's economy is in a historic transition, and green development is one of the five major development concepts of the country's 13th Five-Year Plan (2016-20). Experts believe China will strengthen collaboration with Finland in the areas of energy and the environment to make the transition smoother.
Esa Vakkilainen, a professor of energy technology at Lappeenranta University of Technology, said Oilon, a Finnish company that makes industrial gas and oil burners, is a prime example of how Finnish know-how benefits China. Many of the company's low-pollution, new-technology burners have been installed recently in China.
"Finland is one of the leading countries in clean tech," said Vakkilainen, who believes the two countries can also work together on waste treatment, biogas generation, water purification and air pollution reduction.
CAMCE is not alone in entering the Finnish energy sector. In February last year, one of the leading renewable energy companies in China, Sunshine Kaidi New Energy Group, announced its plan to invest up to 1 billion euros in the construction of a biorefinery in Kemi in northern Finland.
The plan was firmed up when Carl Haglund, the CEO of the company's Finnish subsidiary, confirmed in December that the Chinese company had given tentative approval to the facility.
The refinery is projected to produce up to 200,000 tons of advanced biofuel a year, with about 4,000 jobs created during the building process and a permanent staff of 150.
Both projects would benefit the bioeconomy concept that the Finnish government wants to bring forward, Vakkilainen said.
"The major benefit to China is the internationalization of the respective Chinese companies," he said. "In addition to reaping the profits from the business, they get the possibility to showcase their technological know-how in the EU."
wangmingjie@mail.chindailyuk.com
(China Daily 04/06/2017 page3)