Ballet took pair from Anshan to Helsinki
When Zhan Xinlu started ballet lessons as a 7-year-old, she had no idea where the graceful dancing would take her. In fact, she had little interest in ballet but agreed to indulge her parents, who thought it would improve Zhan's health.
"I was so weak and often got ill," the ballerina, now 26, said during a break from a recent rehearsal in Beijing. "So, my parents sent me to ballet class, though they're not arty people."
However, her flair for dance was soon noticed and, four years later, she left her hometown of Anshan, Liaoning province, to attend the high school affiliated with the Beijing Dance Academy, where she would learn what she needed to make ballet her career.
In June last year, Zhan, who joined the National Ballet of China in 2009 after graduating from high school, was awarded first prize in the senior women's group at the eighth Helsinki International Ballet Competition in Finland.
"That was my first time attending such an international top-level ballet competition," she said. "Since it was required that competitors must be under 26, last year's Helsinki competition was also my last chance."
She performed variations from Don Quixote and Sleeping Beauty for the semifinal and final. The entire competition lasted four days, but each variation was only about three minutes long.
"However, you have to work hard for each minute," Zhan said. "The charm of ballet is, once you finish a performance, you feel great pleasure at the release of tension, and then get ready for your next performance after a break."
Zhan and Sun Yimeng, an old friend, were among about 30 competitors who made the Helsinki finals. The two shared first prize.
Sun, also from Anshan, attended the same high school as Zhan but is two years younger. In 2011, Sun became the first Chinese dancer to take a role with the Finnish National Orchestra and Ballet.
Sun said that China and Finland have both helped her develop as a dancer. "The two countries nurtured me in two crucial phases of my growth," she said. "They combined to contribute to my career today."
Sun was courted by several ballet troupes in Europe, but finally chose Finland because of its emphasis on classical repertoire, which she preferred.
"Finnish people are great fans of classical art forms, which is reflected in their popularity at the box office," she said.
For Sun, an even prouder moment than the Helsinki competition was when she performed a solo dance from Swan Lake for the gala of the G20 Summit in Hangzhou, Zhejiang province, in September.
wangkaihao@chinadaily.com.cn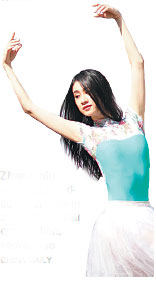 Zhan Xinlu, who was awarded a first prize in a recent Helsinki competition.Provided To China Daily
(China Daily 04/06/2017 page3)