Chinese head home after hurricane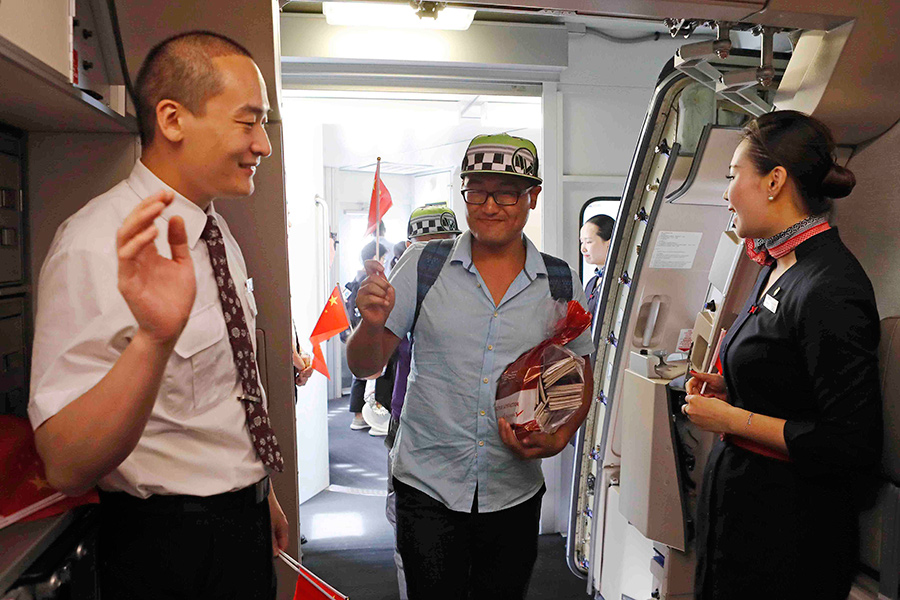 Chinese workers get aboard a plane at V.C. Bird International Airport, Antigua and Barbuda, on Saturday. They were expected to arrive in Shanghai on Sunday night. [Photo by Yin Liqin/China News Service]
Relief, gratitude show as planes leave for Shanghai
ST. JOHN'S, Antigua and Barbuda-China Eastern Airlines crew members greeted Chinese nationals who had been transferred to St. John's, Antigua and Barbuda, in the West Indies with a warm "Welcome home!" as two chartered planes landed at V.C. Bird International Airport.
After Hurricane Maria devastated the Caribbean island of Dominica, 377 of the more than 400 Chinese who found shelter are finally getting a ride home.
Chen Gangjun, 48, had been doing construction work in Dominica as part of an assistance project carried out by China Civil Engineering Construction Corp.
"Many of our fellow workers woke up very early and came to the canteen at 4 am, much earlier than usual. ... Everybody is very excited and eager to go home. They couldn't bear waiting anymore," Chen said. "I shared the feeling, and I don't feel tired at all."
Sun Haojie, director of a Chinese agricultural aid program in Dominica, waited to board with his wife and their 2-year-old son.
"I really want to express my gratitude for our motherland. Without the combined efforts of so many departments, we would not be able to return home in such a short period of time," Sun said.
"My son seems to understand the good news, too. He is particularly excited this morning-I just hope he will not be troubled by the long flight."