Road blocks placed around Helsinki church to avoid possible attacks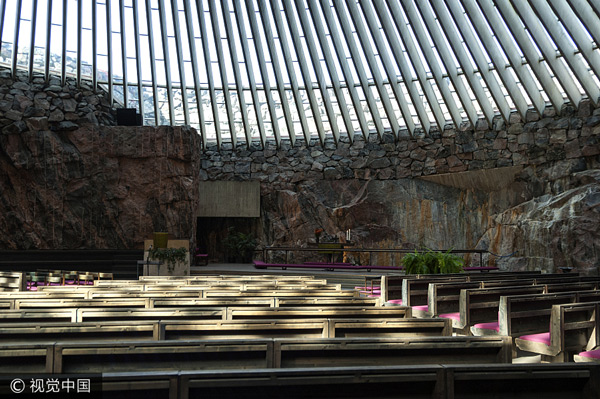 The Rock Church in Helsinki. [Photo/VCG]
HELSINKI - Road blocks were placed on Monday around the Rock Church, a popular tourist attraction in downtown Helsinki, to protect it from possible attacks.
The police suspected an terrorist attack had been prepared targeting the church. The criminal police announced on Monday the threat was being investigated, but gave no more details.
Police inspector Tero Haapala told national broadcaster Yle Monday evening that the possible plan had been at an early stage and it was not near operational level.
The church, built partially underground, was under major police control on Sunday. The police said on Sunday "a person of interest" was being sought but could not be found.
On Monday, the driveways and pedestrian walkways around the church were partially closed with concrete blocks. Access of the public to the church was not restricted.
Besides the Lutheran services for the Toolo district congregation, the church is also open throughout the day for tourists.