Chinese designer brings 'natural' style to Paris week
Editor's Notes: From the runway to exhibitions and presentations to digital mode, Paris seems like the fashion city of choice for most Chinese designers. This year's Paris Haute Couture Fashion Week for Fall/Winter 2017-2018 begins on July 2 and will feature a range of top Chinese fashion designers, including Laurence Xu, who's made another great collection themed on a picturesque Chinese landscape.
Haute couture, defined by the French Federation of Fashion and of Ready-to-Wear Couturiers and Fashion Designers, has become an expression of French national pride and Parisian self-belief. Its committee, however, has a very tough approval process for non-French designers' applications, but Xu's couture managed to receive a tick of approval and he was invited to return again.
"Xu's vision involves all the necessary elements for a luxury haute couture brand: craftsmanship, history, cultural heritage, storytelling, emotion and endless elegance," said Christine Zhao Qian, director of the Paris Chinese Haute Couture Association, who recommended Xu for Paris Haute Couture Week.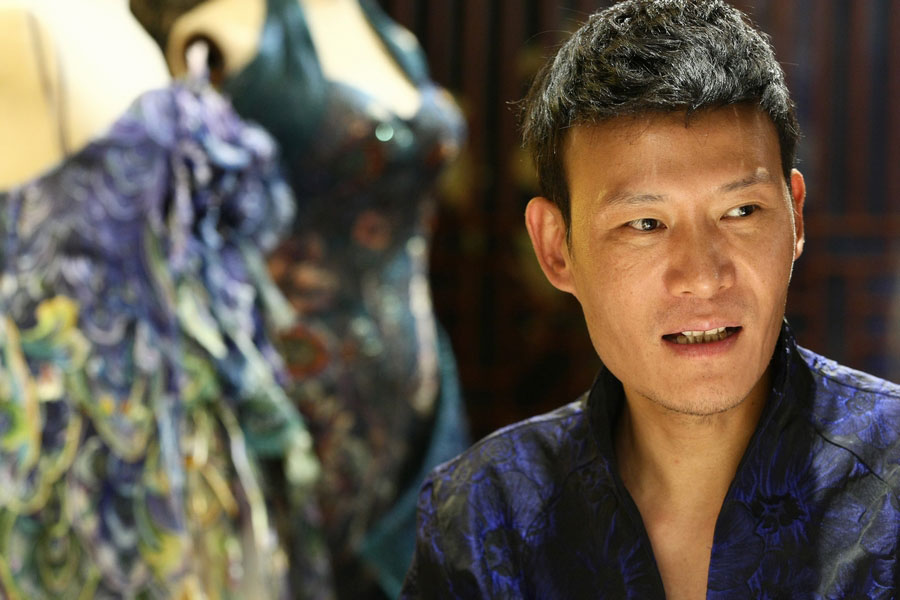 Chinese fashion designer Laurence Xu talks with reporters about his use of traditional and exquisite techniques at his studio in Beijing on June 16. [Photo by Yu Jie/Provided to China Daily]
Final preparations for Chinese fashion designer Xu's work are underway before his collection is featured at the Paris Haute Couture Fashion Week Fall/Winter 2017-2018, which begins on July 2.
The occasion will mark the third time for Xu to showcase his talent and creations in the international fashion arena.
The 43-year-old is set to present 38 stunning gowns that are an opulent melding of Western cuts and traditional Chinese symbolism.
However, the collection will be different from his last two appearances in 2013 and 2015. For the 2017 couture line, he turned to traditional Chinese elements, particularly Guizhou wax printing and Miao embroidery, to create his own distinct aesthetics, told China Daily website.
"From highly embellished gowns to the 'natural' landscape aesthetic, I just want to make a spiritual pilgrimage, and slow down a bit from the hustle and bustle of modern life," he said at a press briefing in Beijing on Thursday.
Renowned as an ambassador of Chinese traditions, Xu considers embroidery and brocade as part of his design DNA. Also, he said he felt a "responsibility" to keep the ancient Chinese wax printing techniques alive while presenting the delicate design to the world.
Traditionally, the wax printing technique is created using a small spatula as a pen and wax liquid as paint to draw patterns on the cloth. Then the cloth is placed into a dye vat with handmade blue paint.
"However, wax prints are not confined to an indigo colored pattern. The cloth could be colored in a variety of ways and shaped in different styles that creates a modern look, juxtaposing both Western silhouettes and Chinese flavor," Xu explained.
It usually takes dozens of craftsmen 20 days to finish an article of clothing, according to Xu's assistant. The show costs him almost 30 million yuan ($4.4 million) as Xu prepares it for half a year.
Xu believes his creations with exquisite Chinese wax printing techniques could become classic again, like the "dragon robe" designed for a Chinese actress that was later acquired by the Victoria & Albert Museum in London.
"Making my designs at an affordable price is not an easy job, but I strive to do so in the near future," Xu said, adding that 80 percent of his current customers are the ultra-wealthy from China's Hong Kong, Singapore and Arab countries.