Forest fire kills 62 in Portugal; search on for more bodies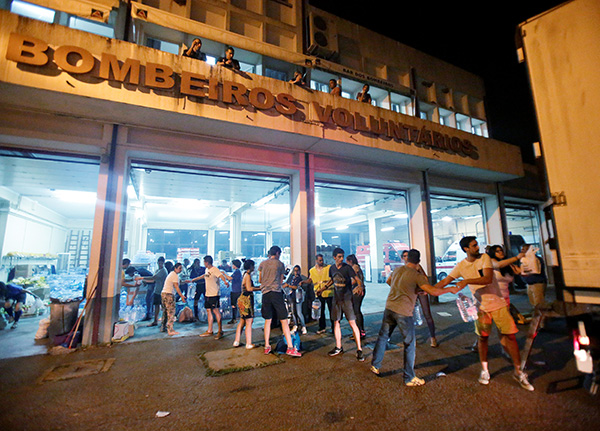 Volunteers unload food and water at a fire station in Pedrogao Grande, central Portugal, June 18, 2017. [Photo/Agencies]
The forest fire deaths were the biggest in memory in Portugal, which saw 25 Portuguese soldiers die fighting wildfires in 1966. Last August, an outbreak of fires across Portugal killed four people, including three on the island of Madeira, and destroyed huge areas of forest.
Isabel Brandao told The Associated Press on Sunday that she had feared for her life when she saw the Pedrogao Grande blaze.
"Yesterday, we saw the fire but thought it was very far. I never thought it would come to this side," she said. "At 3:30 am, my mother-in-law woke me up quickly and we never went to sleep again."Others were also shocked.
"This is a region that has had fires because of its forests, but we cannot remember a tragedy of these proportions," said Valdemar Alves, the mayor of Pedrogao Grande. "I am completely stunned by the number of deaths."State broadcaster RTP showed terrifying images of several people on a road trying to escape the intense smoke that had reduced visibility to a few meters (yards). A young man shared a bottle of water with a distraught woman as she stumbled down the road.
Gomes gave a grim description of the deaths to RTP. He said at least 30 people died inside their cars as they tried to flee between the towns of Figueiro dos Vinhos and Castanheira de Pera. He said 17 others died right outside their cars or by the road, 11 people died in the forest, two people died in a car accident related to the fire and information was missing on the other deaths.
Gomes said 54 people were also injured in the fire, 5 of them seriously, including four firefighters and a minor.
Costa tweeted his "deepest regret for the victims ... and a word of encouragement and strength for all who help combat this scourge.""We are most likely facing the biggest tragedy of human life that we have known," he said.