Victims of Manchester bomb attack named
Manchester police said they were confident that they had identified all 22 victims of the suicide bomber Salman Abedi, who set off an explosion at an Ariana Grande pop concert in Manchester on Monday.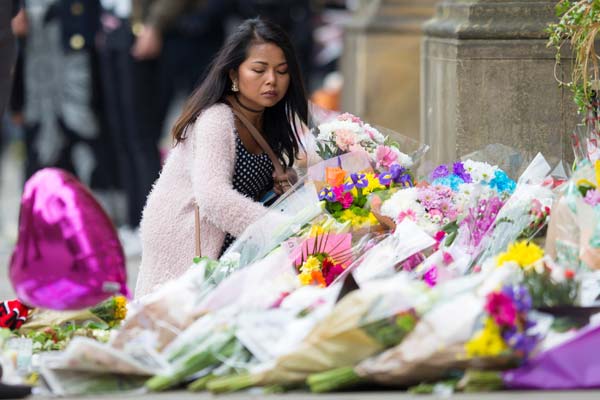 A woman places flowers on an impromptu memorial at Manchester Town Hall for the victims of an attack at Manchester Arena, Manchester, Britain, May 24, 2017.  [Photo/Agencies]
So far only 12 victims have been named and 20 people remain under critical care in hospital suffering from damage to organs and limbs.
Alison Howe, 44, and Lisa Lees, 43, were killed as they waited for their daughters to leave the concert hall. Jordan Howe, stepson, posted: "They took a caring beautiful mum and step mother away from us all she was amazing to us all x love you loads Alison Howe xx."
Lees' brother Lee Hunter posted: "'For those who don't know Lisa is gone but never ever forgotten I love you Lisa I'll miss you so much."
Kelly Brewster, 32, shielded her niece from the blast. Her partner, Ian Winslow confirmed her death: "Kelly really was the happiest she has ever been and we had so many things planned together. My daughter Phoebe will be absolutely devastated like we all are."
Olivia Campbell, 15, was the subject of a social media search before her family found out that she had died. Her mother, Charlotte Campbell, posted: "My darling precious gorgeous girl Olivia Campbell, taken far, far too soon go sing with the angels and keep smiling mummy loves you so much."
Megan Hurley was a pupil at Halewood Primary School in Merseyside.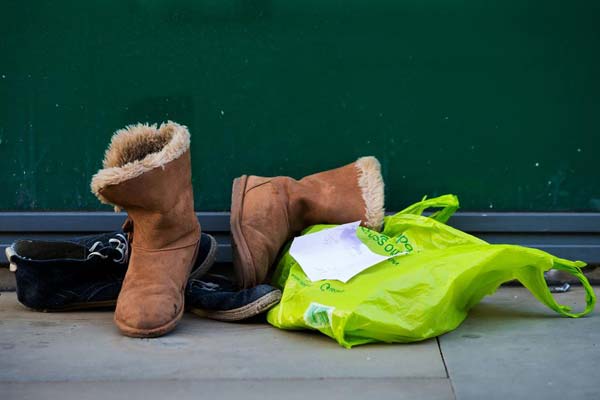 Shoes and personal belongings are seen near the Manchester Arena in central Manchester, Britain May 23, 2017.  [Photo/Agencies]
Georgina Callander, 18, is a health and social care student at Runshaw College in Lancashire. The college said in a statement: "Our deepest sympathies, thoughts and prayers go out to all of Georgina's friends, family, and all of those affected by this loss."
Saffie Rose Roussos, 8, was one of the first victims to be named. Chris Upton, head teacher at Tarleton Community Primary School, Lancashire said she was a beautiful little girl in every sense of the word. "She was loved by everyone and her warmth and kindness will be remembered fondly," he said. Roussos' mother, Lisa, is in intensive care and does not know of her daughter's death.
John Atkinson, 26, was described by Hayley Turk as one in a million. "A true gentleman. R.I.P John thoughts and prayers with you family and all of the other victims affected by this tragedy," she posted.
Angelica and Marcin Klis, 40 and 42, originally from Poland, took a selfie outside the concert hall before they went to meet their two daughters.
Martyn Hett, 29, was separated from his friend when he was hit by the blast. He was due to travel to the US for 'a trip of a lifetime' this week.
Jayne Tweddle-Taylor, 50, was picking up daughter with a friend, when she was killed.
To contact the reporter: conal@mail.chinadailyuk.com
Michael Masci-Gore contributed to this report.