James Bond actor Sir Roger Moore dies at age 89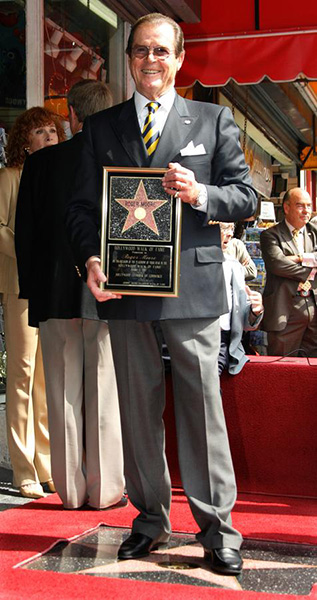 British actor Roger Moore stands atop his newly unveiled star on the Hollywood Walk of Fame in Hollywood, California, Oct 11, 2007. [Photo/Agencies]
Sir Roger Moore, known for playing British 007 secret agent James Bond, has died at the age of 89 in Switzerland after a short battle with cancer, his family said.
In a Twitter message on the actor's official account, his family wrote: "With heaviest of hearts, we must share the awful news that our father, Sir Roger Moor, passed away today. We are all devastated."
The statement continued, "It is with a heavy heart that we must announce our lovely father, Sir Roger Moor, has passed away today in Switzerland after a short but brave battle with cancer. The love with which he was surrounded in his final days was so great it cannot be quantified in words alone."
Moore was the third actor to play the famous spy in seven James Bond films between 1973 and 1985 including Live and Let Die, For Your Eyes Only and the Spy Who Loved Me.
The statement from his children, Deborah, Geoffrey and Christian added, "We know our own love and admiration will be magnified many times over, across the world by people who knew him for his films, his television shows and his passionate work for UNICEF which he considered to be his greatest achievement"
"Thank you Pops for being you and for being so very special to so many people."
They said their thoughts must now turn to supporting Kristina, Moore's wife, "at this difficult time"
They also said there will be a private funeral in Monaco "in accordance with our father's wishes".
Roger Moore was born on 14 October 1927 in Stockwell, London.
He starred in television series such as Ivanhoe and Maverick before achieving worldwide fame as Simon Templar in the new small screen adaptation of The Saint, based on the novels by Leslie Charteris.
Off screen, the actor was known for his charitable work. Moore was introduced to the charity UNICEF by his friend Audrey Hepburn and he went on to become a UNICEF Goodwill Ambassador in 1991.
In 2003, Moore was given a Knighthood for his humanitarian work, which became his main focus for many of his final years.
To contact reporter: boleung@mail.chinadailyuk.com