President sends Rouhani best wishes on re-election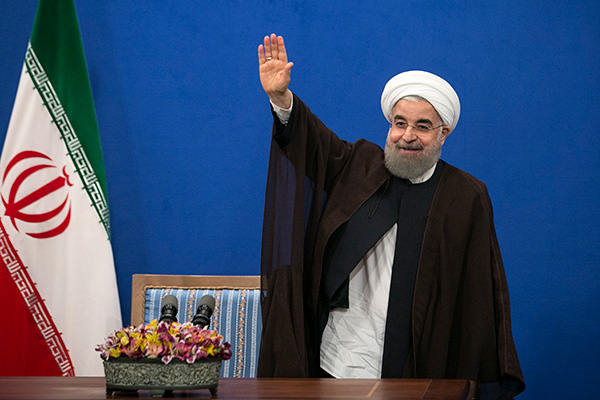 Iranian President Hassan Rouhani waves before making a speech in Teheran on Saturday. XINHUA
President Xi Jinping sent a congratulatory message on Saturday to his Iranian counterpart Hassan Rouhani on his re-election to a second four-year term as Iran's president.
Noting that he attaches great importance to China-Iran relations, Xi said that he is willing to work together with Rouhani to push forward the development of the bilateral ties.
Rouhani won the presidential election with 57 percent of the vote, the Interior Ministry announced on Saturday. He said in a televised speech on Saturday that by voting for him, Iranians have chosen the course of interaction and said "no to violence and extremism" in the world.
Xi said in his message that Iran has made new socio-economic achievements over the past four years under Rouhani's leadership and that the development of the China-Iran relationship has maintained sound momentum thanks to the two countries' joint efforts.
Recalling his state visit to Teheran in January 2016 and the in-depth talks he had with Rouhani during that trip, Xi noted that they have reached important consensus on bilateral ties.
During Xi's visit to Iran, the first in 14 years by a Chinese head of state, the two countries agreed to elevate their ties to a comprehensive strategic partnership to boost cooperation on all fronts and carry forward their millennia-old friendship.
China is Iran's largest trading partner and its largest crude oil market. During Xi's visit, the two countries signed a number of documents to cooperate in such areas as infrastructure, energy, finance, investment and news media.
Jin Yong, a professor of international relations at Communication University of China in Beijing, said Iran has geographic advantages to boost its Belt and Road cooperation with China amid Beijing's efforts to increase interconnectivity in the world.
Iran is close to the Strait of Hormuz, a key maritime channel, and home of the port of Bandar Abbas, one of the largest in the Gulf region, he said.
According to the Chinese embassy to Iran, the two countries have made progress on Belt and Road cooperation regarding in particular a large number of construction projects contracted by Chinese companies in Iran.
As of September, Chinese companies have contracted at least 136 projects in such areas as transportation, energy, steel, and petroleum chemistry in Iran, worth a total of $32.74 billion.