British parties witness hectic first day of election campaigning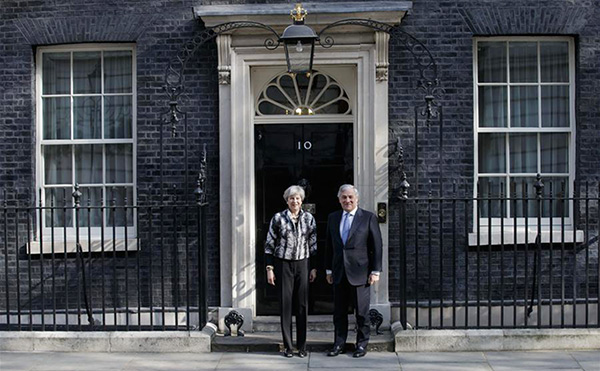 British Prime Minister Theresa May (L) meets with President of the European Parliament Antonio Tajani at 10 Downing Street in London, Britain on April 20, 2017. [Photo/Xinhua]
LONDON - The first full day of campaigning got off to a flying start Thursday following British Prime Minister Theresa May's decision to call a snap general election.
With British voters going to the polls on June 8, the big parties did not want to waste any time ahead of the official launches of their election manifestos.
May is predicted to lead the Conservatives to victory with a bigger majority in June. In the first major opinion poll since the election was called, YouGov asked people who they would vote for if there was an election now.
Conservatives topped the list with 48 percent, up 4 percentage points on the last poll. Labour trailed in second place on 24, an increase of one point. Twelve percent opted for the Liberal Democrats and 7 percent chose UKIP.
YouGov said the results represent the highest vote share for the Conservatives since May 2008.
May continues to be the favored choice for prime minister, with 54 percent of people preferring her to Labour's Jeremy Corbyn, who is backed by 15 percent of voters.
Corbyn was in London to deliver what was the first major speech by a party leader in the election race. He told cheering supporters: "It is the establishment versus the people and it is our historic duty to make sure that the people prevail. A duty for all of us here today, the duty of every Labour MP, a duty for our half a million members -- including the 2,500 who have joined in the last 24 hours."
Convinced Labour can win, he said: "We will build a new economy... and we will build a country for the many not the few."
In Edinburgh, the First Minister of Scotland and leader of the Scottish Nationalist Party (SNP) Nicola Sturgeon said the SNP is the only party standing in the way of a Conservative majority "because it is 'pie in the sky' to think Labour can win alone."
Speaking at First Minister's Questions on Thursday, Sturgeon said: "The idea in this election that Labour is going to replace the Conservatives is frankly pie in the sky."
"We face an unfettered out-of-control Conservative government. If people want to make sure a Conservative government can be held to account, if they want to make sure there is a strong voice for Scotland and they want to make sure Scotland is protected, they have to make sure they send SNP MPs back to Westminster," she added.
In 2015, the SNP scored its biggest ever electoral success, sending more than 50 MPs to Westminster.
Nigel Farage, founder and former leader of UKIP, the party that campaigned for Britain to leave the European Union, said in a media interview he may stand in the general election. Currently the party has no MPs at Westminster.
Meanwhile, May was busy on government duties at 10 Downing Street. She held a meeting with European Parliament President Antonio Tajani.