Japan's Abe sends ritual offering to notorious Yasukuni Shrine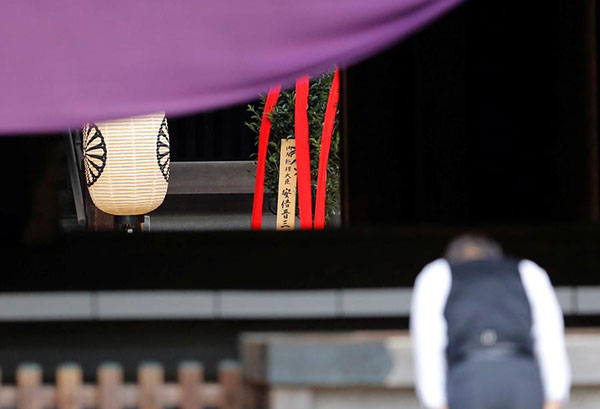 A wooden sign which reads "Prime Minister Shinzo Abe" is seen on a ritual offering, a "masakaki" tree, from Abe to the Yasukuni Shrine, inside the main shrine at the controversial shrine for war dead, in Tokyo, Japan, April 21, 2017. [Photo/Agencies]
TOKYO - Japanese Prime Minister Shinzo Abe on Friday sent a ritual offering to the notorious Yasukuni Shrine, which honors 14 Class-A convicted war criminals among 2.5 million Japanese war dead from WWII.
Health, Labor and Welfare Minister Yasuhisa Shiozaki and the speakers of both houses of the Diet also sent ritual offerings to the shrine on the occasion of the annual spring festival.
The war-linked Yasukuni Shrine is regarded as a symbol of past Japanese militarism.
Although the move will likely draw staunch criticism from neighboring countries, Japanese cross-party lawmakers and some of Abe's Cabinet ministers may visit the controversial shrine during its spring festival that concludes on Sunday.
Visits and ritual offerings made by proxy to the infamous shrine by Japanese leaders and officials have consistently sparked strong criticism from its victimized Asian neighbors during WWII, including China and South Korea.