Death toll climbs to 207 in Colombian landslide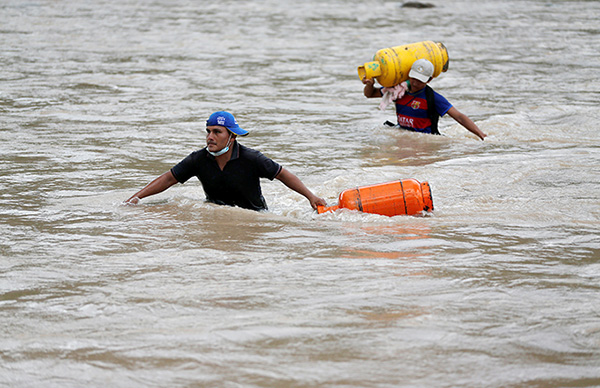 Men walk in a river with their belongings after flooding and mudslides caused by heavy rains in Mocoa, Colombia April 2, 2017.[Photo/Agencies]
BOGOTA - The death toll from a massive landslide that devastated entire neighborhoods in Colombia's southwest city of Mocoa, Putumayo, climbed to 207, Colombian President Juan Manuel Santos said on Sunday.
As many as 43 children were among the fatal victims of Saturday's disaster, which was sparked by heavy rains Friday night that raised water levels in three rivers, unleashing a torrent of mud.
Santos returned to the site of the tragedy to supervise the recovery efforts, saying "I have come to fix the bottlenecks so the humanitarian aid flows, and to begin the reconstruction phase starting now."
At least 300 families in the town of 43,700 inhabitants were left homeless.
Accompanying Santos were his ministers of Mining and Energy, Transport, Interior, and Housing, "to speed up the restoration of essential basic services," said Santos.
"We are ... fixing bridges and at the same time speeding up construction, the structural part: energy, water and housing. The idea is to leave Mocoa better than it was before," said Santos.
Also accompanying the president was his wife, Maria Clemencia Rodriguez, who was to supervise the aid for children affected by the landslide.
Officials have identified at least 85 of the victims, but an undetermined number of people remain missing, making it likely the death toll will continue to rise.
The Mocoa, Mulatos and Sangoyaco rivers, all of which run through the city, burst their banks after a month's worth of rain fell in a single night.